We recently made some DIY concrete pavers for our side yard and are SO happy with them. We knew we wanted to color them somehow but weren't sure what to use. I've stained concrete in the past, and it involved pre-treatment with muriatic acid, and then some sort of acid stain. It looked good, but that's a lot of acid! Plus I didn't want to have a bunch of leftover muriatic acid left in the garage. I wanted an easy way to stain concrete.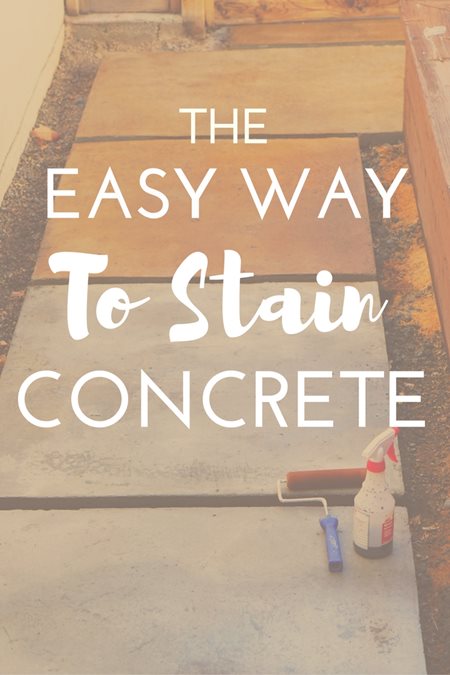 Another option was to color the concrete as we mixed it and we decided early on against this option.  For one reason, it was just a solid color and the options were pretty limited. But the biggest reason was that it was really pricey (if you have read the DIY concrete paver post, you might remember the whole thing started with Mike's grandstanding about it only costing "about 40 bucks and an hour of our time.") So we were also looking for a very cost effective option since we were already in deeper than we anticipated. So…we wanted a cheap and easy to stain concrete.
What was our solution? Concrete glaze.
When I was working on the concrete countertops I reached out to the company that made the sealer because I was pretty thrilled with it. Lucky me, they sent me a new sealer product and some concrete glaze product from Buddy Rhodes for use on a blog project. So as we were contemplating coloring the concrete pavers, I realized I finally had a glaze-worthy project!
So what IS concrete glaze?
I wasn't sure myself—so I asked Google and I'm still not exactly sure. But I can say that after having gone through the rigors of acid-staining concrete, I found the glaze refreshingly easy! The Buddy Rhodes glaze is a water-based pigmented color that works its way into the concrete, so you can manipulate it a bit by adding water or rubbing it off to create beautiful, uneven patterns and water spots. And the options for blending colors make the surface even more unique. I knew this would be awesome after watching this video presenting an application technique.
Once we decided upon finishing the pavers with the glaze, it was a matter of time to wait for the pavers to properly cure, which takes about 28 days (this blew me away when I first learned of the curing times).  I have to say, it's hard to wait that long. I only waited until the concrete looked uniformly light grey, which took about two weeks in our arid climate.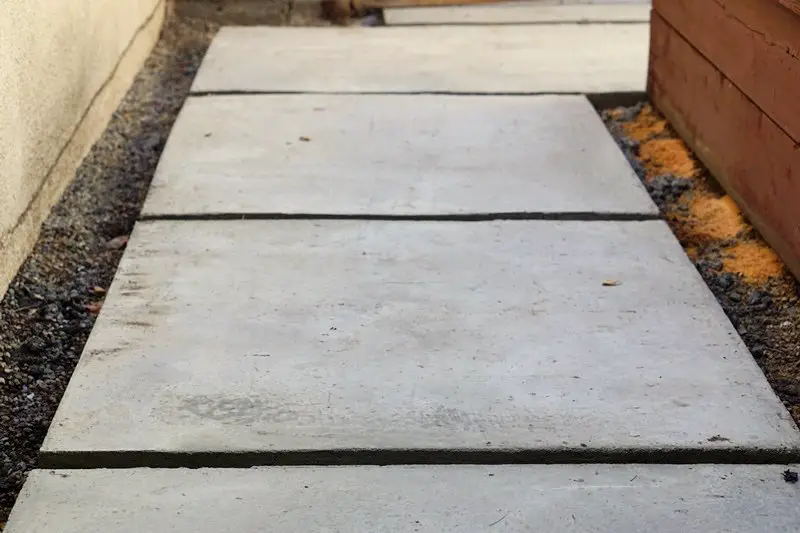 The Easy Way To Stain Concrete With Concrete Glaze
Materials:
Scrub brush
Foam rollers
Spray bottle and distilled water
Rubber gloves
Glaze
Concrete Sealer (to be applied after glaze dries)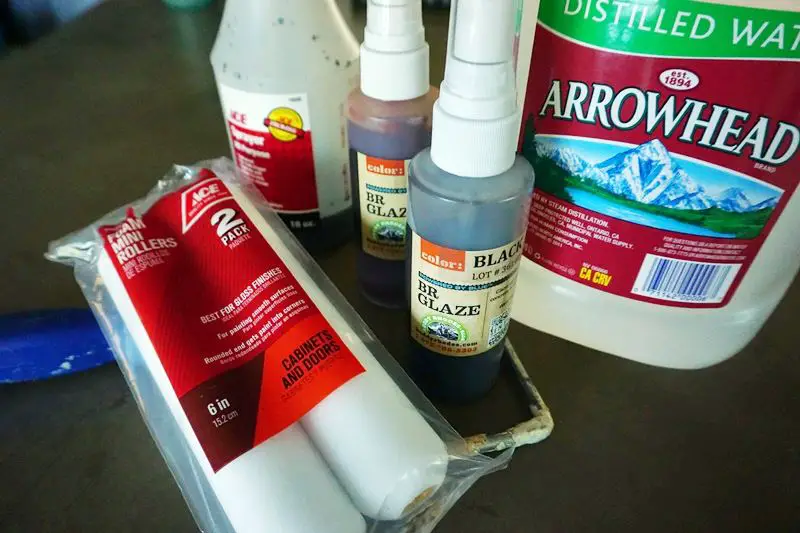 Step 1
Clean off the pavers. Use a scrub brush to get all those small dirt particles out of the surface pores while you rinse it off. A hose worked great—and you want the surface to be wet when you spray on the glaze in the next step.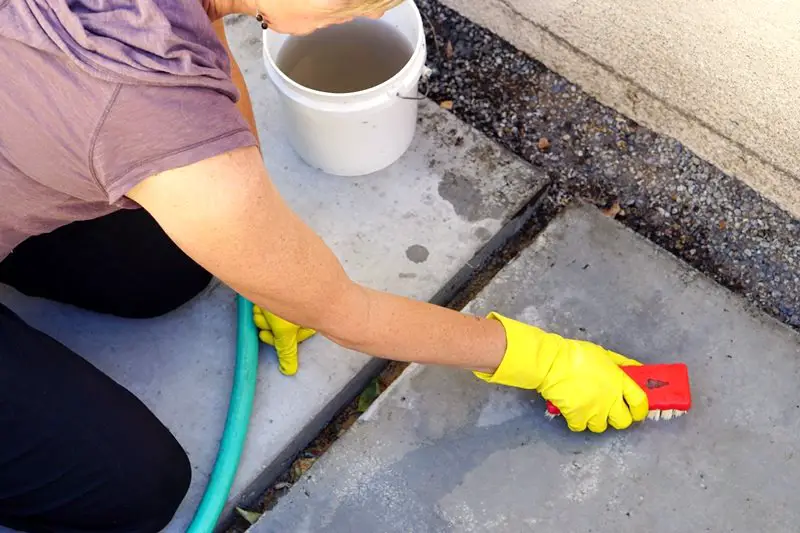 Step 2
Spray on your glaze (make sure the paver is still a bit wet). This is the fun part. You can either spray straight from the bottle, or dilute it a bit. I started with a dilute solution but the concrete seemed to suck it up so fast that I switched to spraying it straight from the bottle. Start spraying conservatively at first, and blend more than one color if you like. I started with a color called "leather" and then decided it was too rust-colored so I added black. You can see the spots of black on the concrete before I blend it. As you spray, work it into the concrete with a foam roller—it's super fun to see the color develop.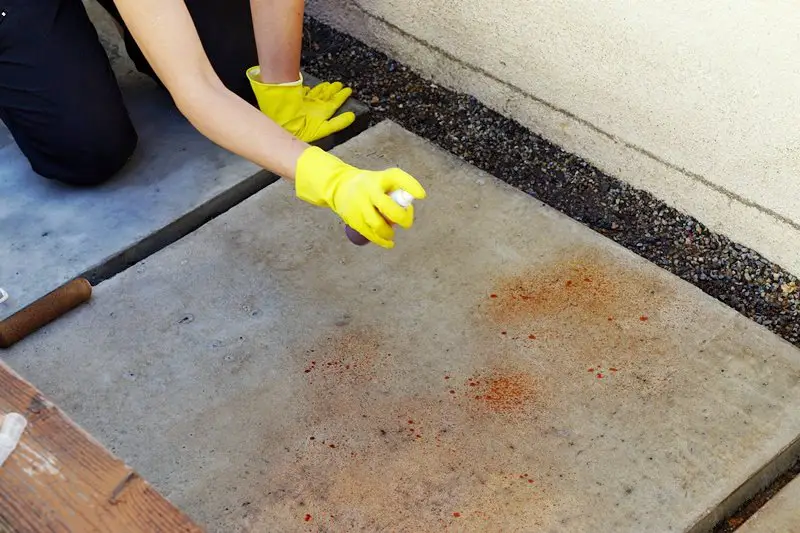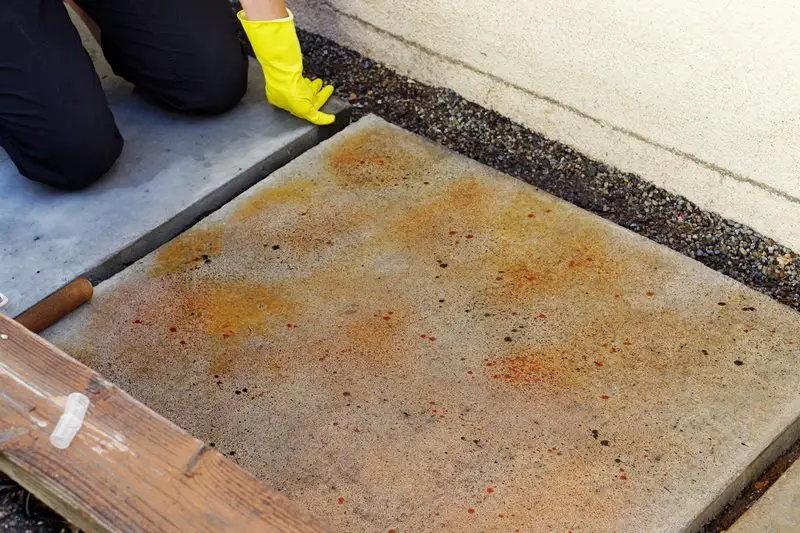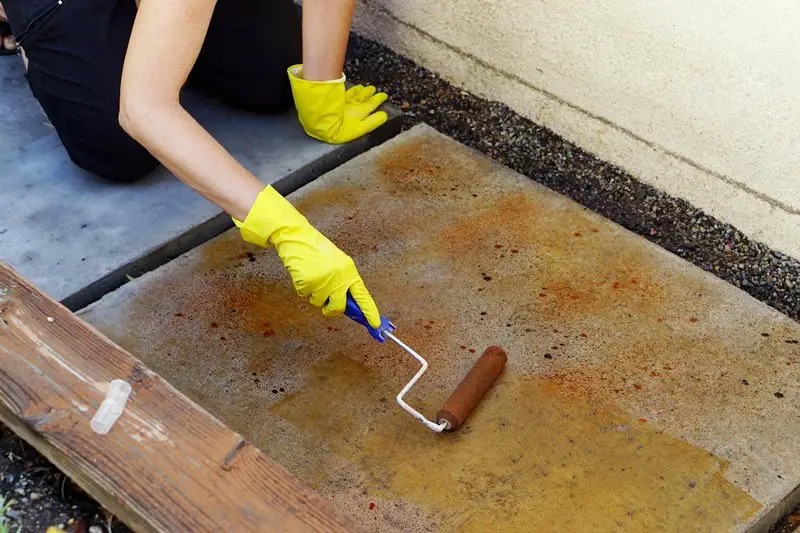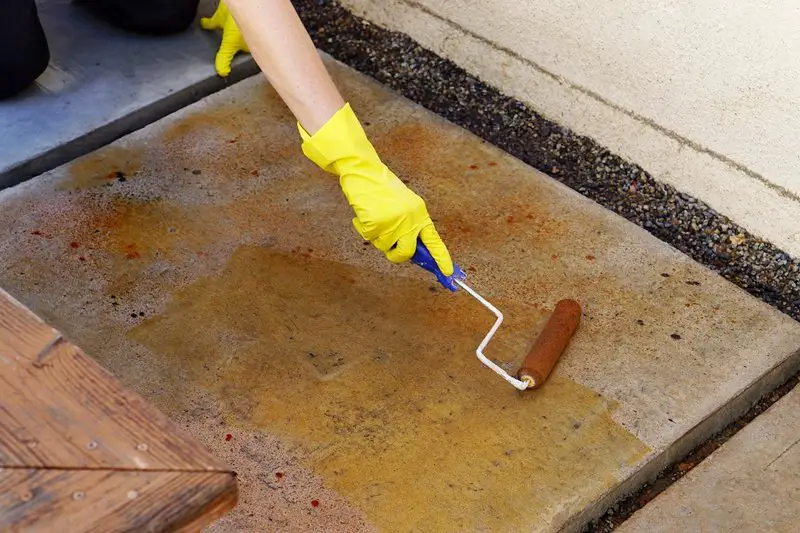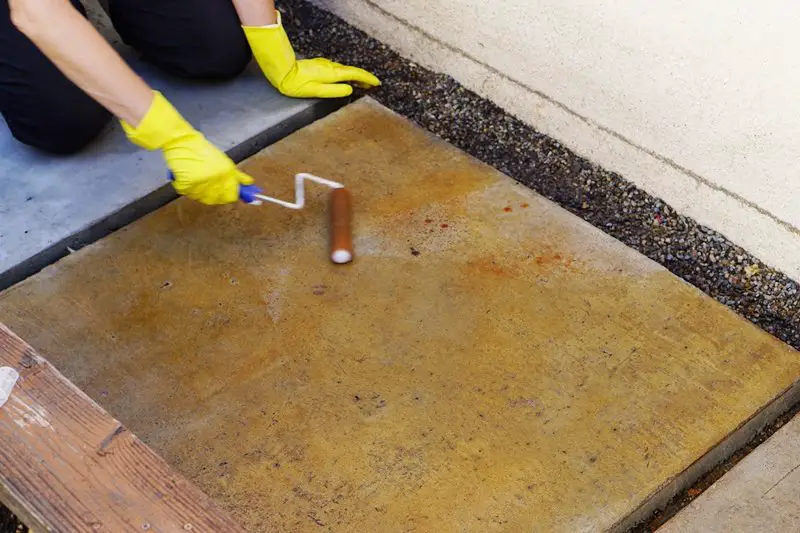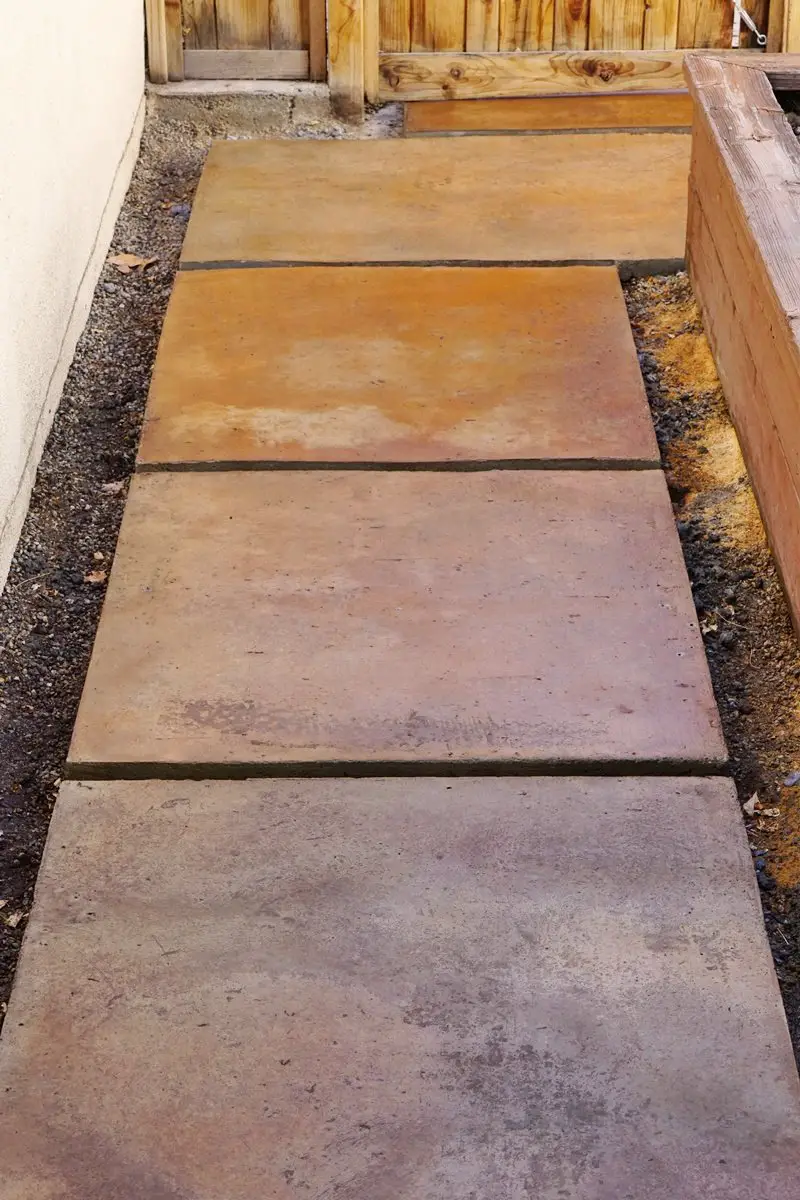 Step 3 (optional)
For a more mottled look, spray with distilled water and roll it into the concrete glaze. You will see that it lifts some of the color and creates interesting effects. Here's a video demonstrating the application process with the water. Repeat as necessary until you have your desired look!
I decided after I was "done" that I wanted a richer, more saturated look, so I applied more of everything. The beauty of the glaze is that you can adapt as you go. Here you can see the pavers are darker and some more mottling has taken place. Interestingly, each paver also accepted the stain differently. It's possible that some had smoother surfaces than others.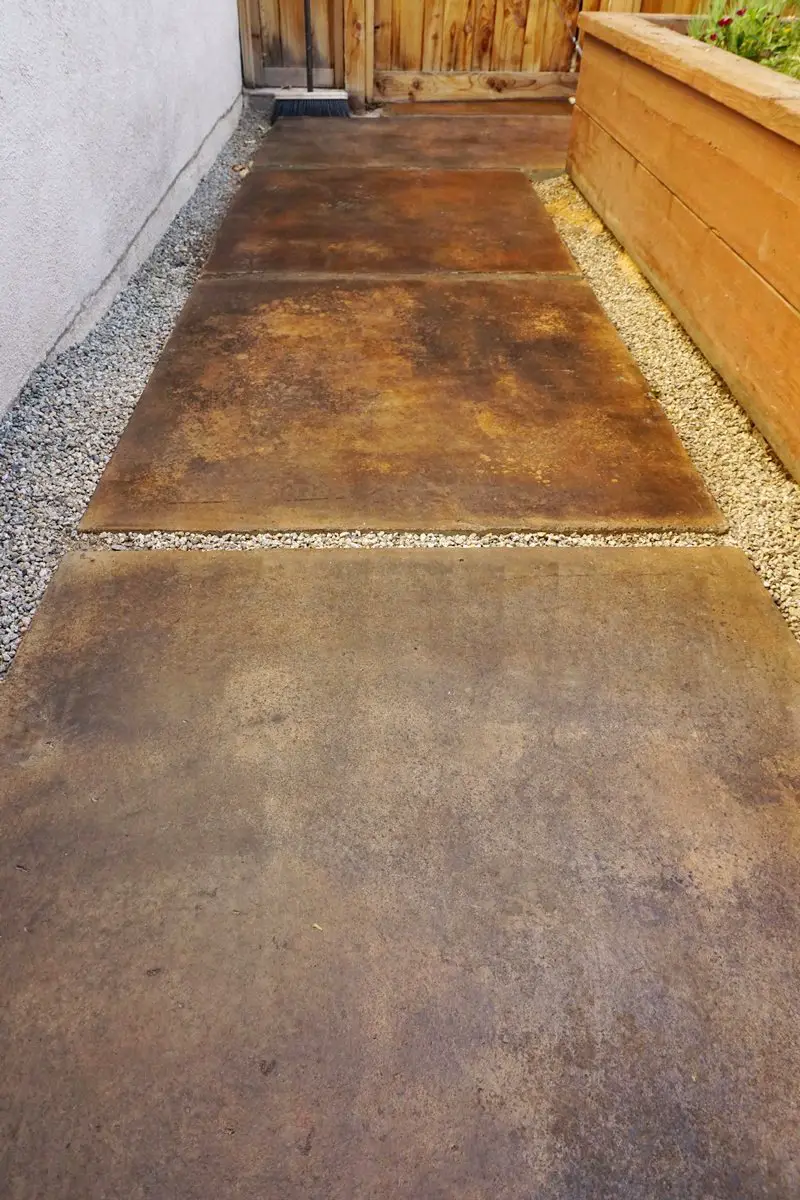 Step 4
Let dry 24 hours. To protect the concrete and color, apply sealer according to directions.
Finished!
So there you have it—an easy way to stain concrete! The whole glazing process (without applying the sealer) took me about two hours for the pavers. I have just under 40 square feet. Your time may be much faster— I kept working in the black and then rolling it off with the rollers. I probably would have done it for hours more except it was getting dark and I had to call it quits.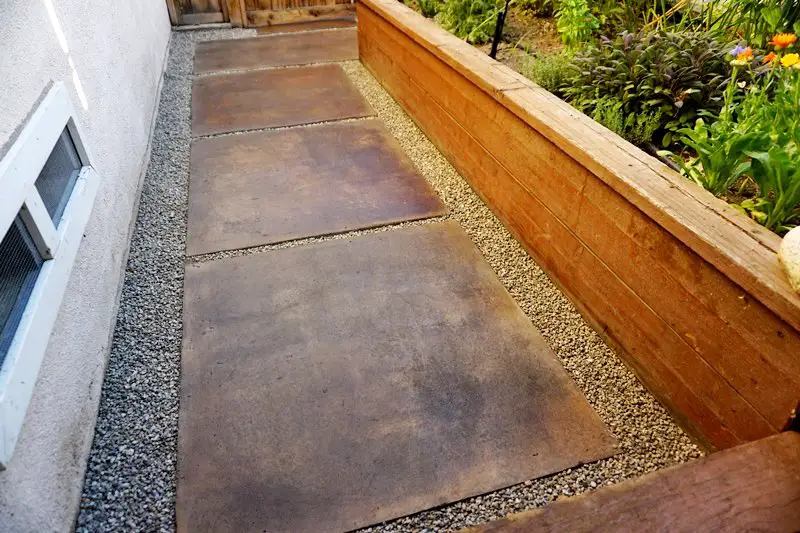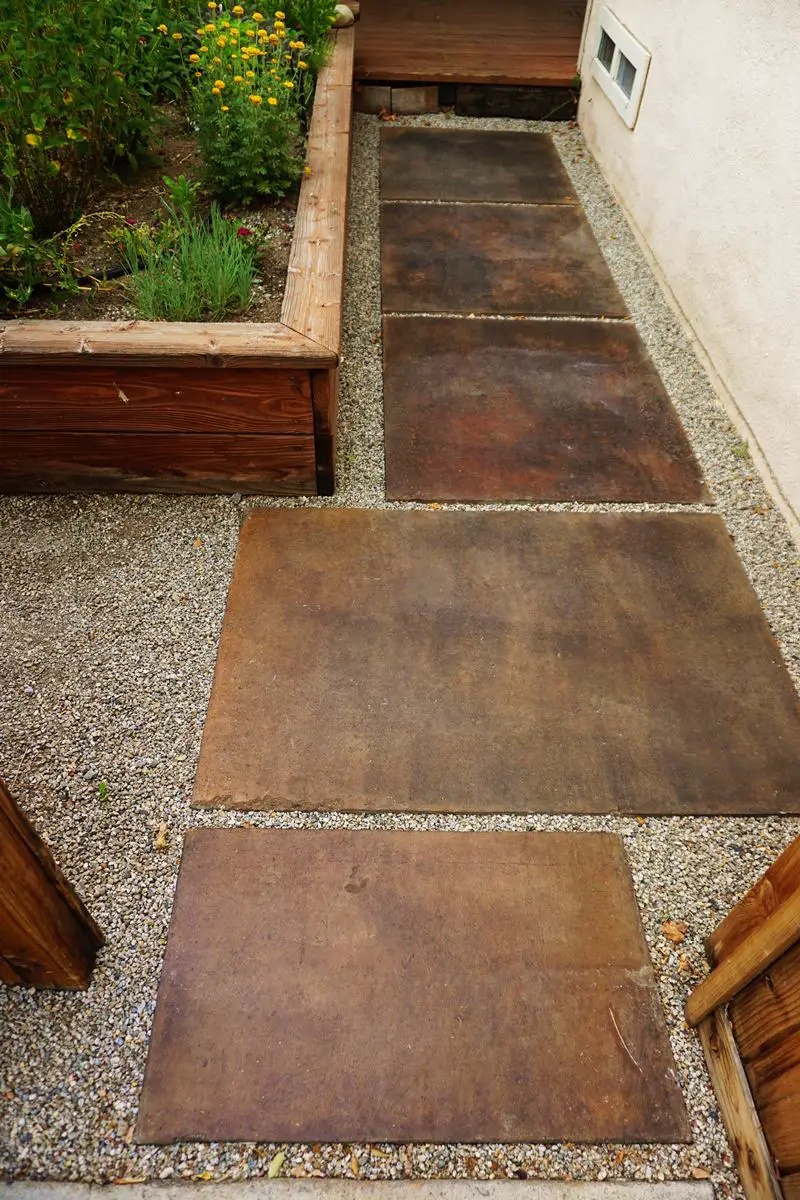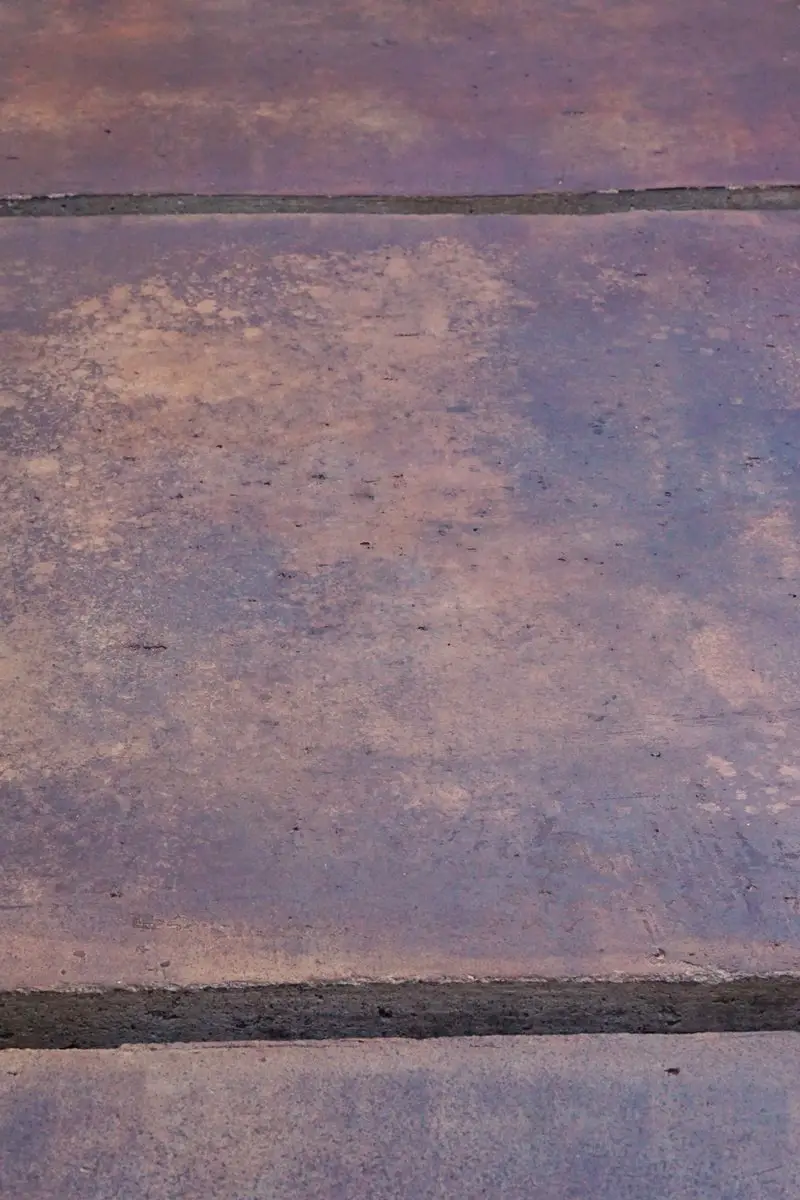 And the glaze is not just for pavers—my neighbor is using it on her DIY concrete countertops. She is using a concrete skimcoat to create the surface on the counters and is adding the glaze for some color and interest. She hasn't completed the project yet, but started with a test piece which looks fantastic.
Have fun with your project!!