How on earth does one start upon a path of DIY in their home? For many it probably happens with a small project like painting a room, fixing a broken door handle, or adding new lighting.
Some might be naturally called to the path, with its dreamy air of possibility and pride. And they have been doing it in some way or another since they first put that Tiger Beat poster up in their teen bedrooms. Others might shy away from it, as it might be fraught with fear and failure.
I was somewhere in the middle. Or maybe I started all gung ho, and then the problems set in. So I ended up in the middle.
But back to the story. My path started with my bathroom.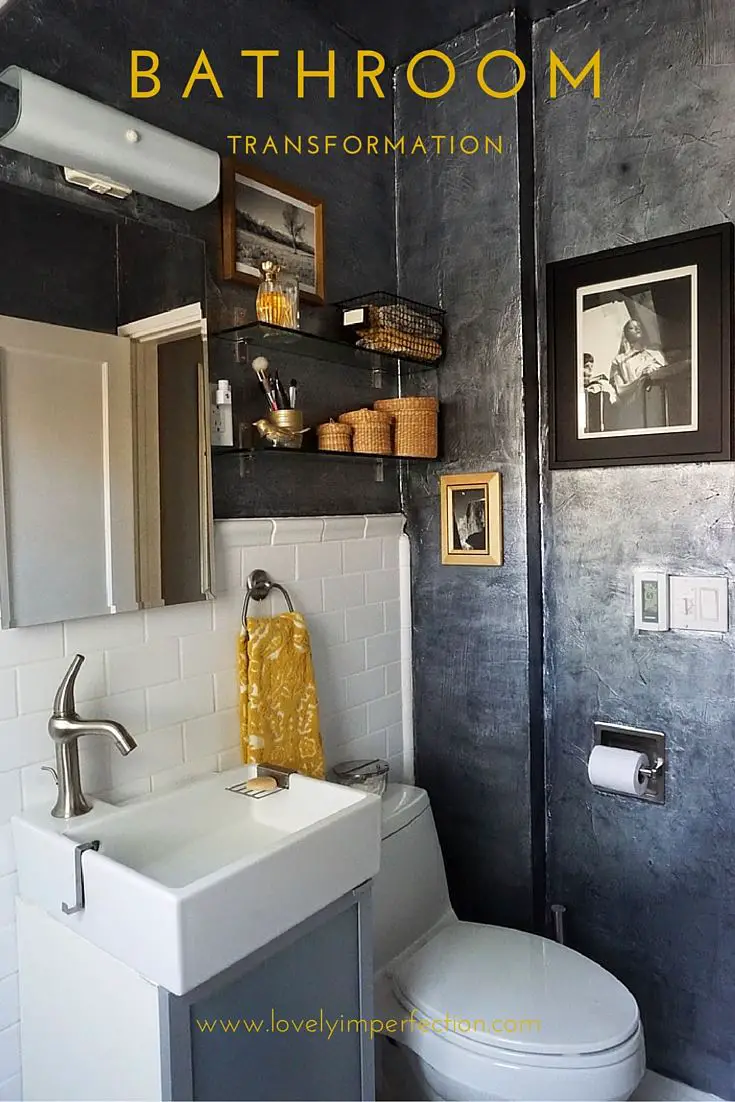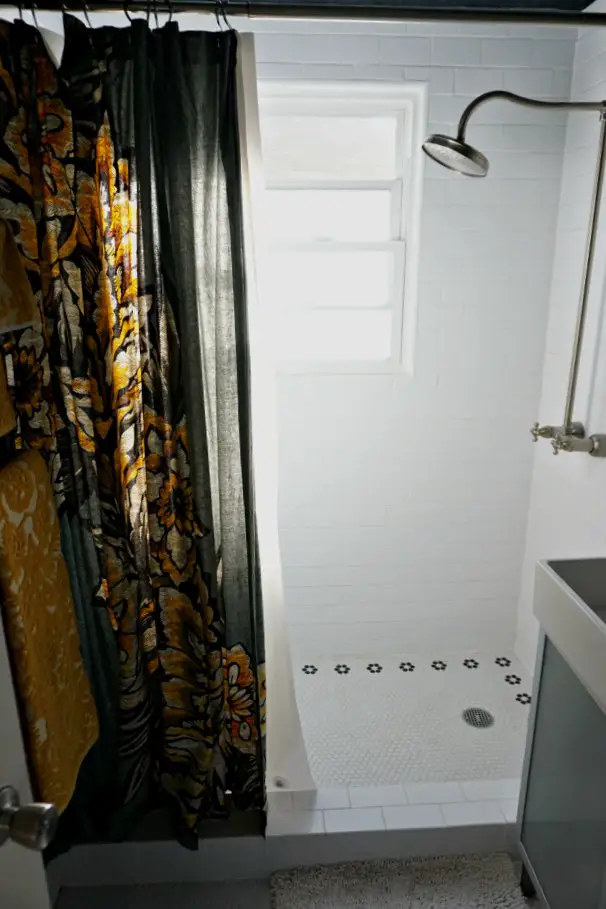 I had just bought my house. And by bought, I mean I poured every penny into it. I was so excited. My slightly concerned mother mentioned something about keeping some cash in case of immediate repairs. …Or furniture. I foolishly assured her that the place was move-in ready. (Ah, the naiveté!)
Things went well. My first several weeks were bliss. I bought right before Christmas and had an incredible holiday in a home that was all mine!
Then one morning in early January, I stepped into my bathroom, and the floor was squishy. What?! That can't be! I looked down and water bubbled and oozed up from the grout lines in between the tiles. My absolute horror turned into immediate denial and I dashed out of the bathroom and tried not to think about it.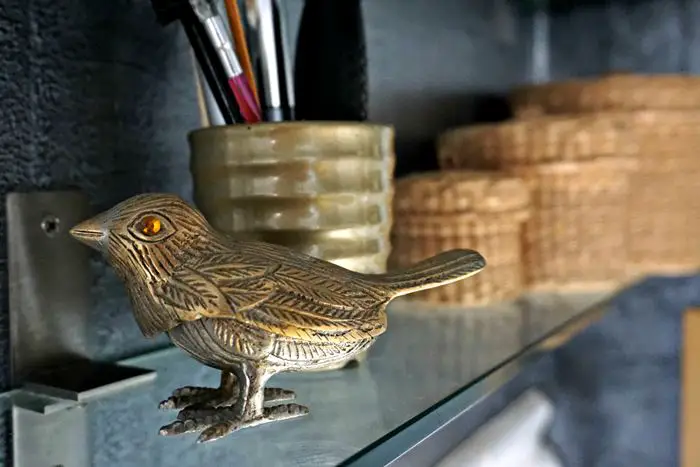 Well of course that didn't last and I made my way back into the crisis and started exploring the damage. I was able to remove tiles and even some of the wall behind the sink with my fingers. Pretty soon the torn up corner was not even recognizable as a functioning bathroom.
The damage was caused by a little pinhole leak in a pipe that lived in the wall behind the sink. Whomever did the plumbing crimped the copper pipe ends and soldered the crimps together. And, what do you know? It sucked. It leaked.
A plumber came and fixed the leak the next day. He said it had likely been leaking for months until it finally hit the breaking point of saturation on my floor and I discovered it. The extent of damage grew as I kept on removing tiles and finding water damage further and further from the leak. My biggest dilemma was the fact that there was water damage under the tub. And from the crawl space under the house, it looked like mold under the tub area.
So. What to do now? I expunged my emergency cushion for the home purchase. So I figured I had no choice but to try to fix things myself. It can't be rocket science, I figured.
I probably would have been fine if I just stuck to a little floor and wall repair.
But I went big.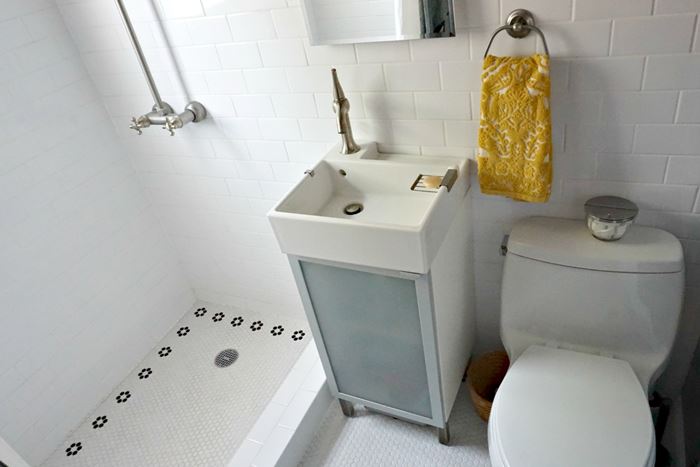 I figured I needed to take out the tub to fix the rotting floor underneath it. And the shower tiles were a little black with mold in a few areas anyhow, so the tub area definitely needed a re-do. In fact, I had always wanted a walk-in shower, so I would do away with the tub altogether and make a shower. And while I was at it, heated floors seemed like a fantastic idea…
Before I even lifted a hammer, I convinced myself I could do all these magical things in my bathroom that I had always wanted. It was MY home, after all. Why not make it the way I want it to be?
All the folks on YouTube tutorials became my new best friends. –And boy did I have a lot of tutorials to watch. And all kinds of internet research.
The first intensive research period came with the shower. I learned all about the term "shower pan." Wait! Isn't pan a cooking term? Why do I need one in my shower?
The shower pan is what waterproofs and drains water from your shower floor. I wanted a tiled shower floor which meant I somehow had to waterproof under the tile and get it all to drain. I needed a cement shower pan. And I decided I could do it myself.
Was that so unrealistic? I reached out to a few friends who have remodeled their entire homes themselves. "How did you build your shower pan?" I would ask. They replied "Oh, we didn't dare try that. We hired out that part."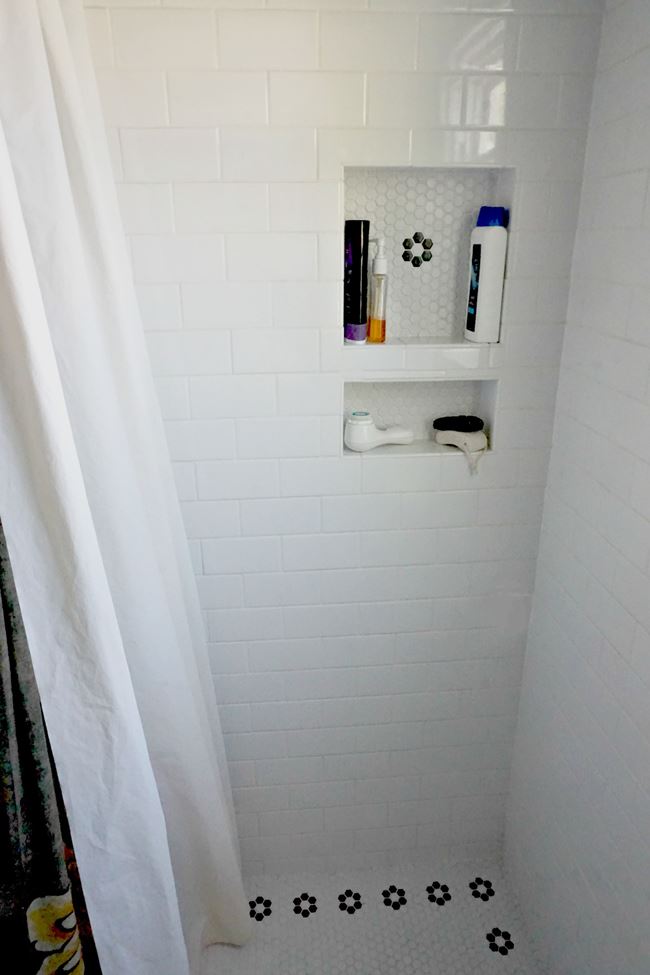 I must have been crazy. First I needed to comprehend the whole concept of slope: how to tilt the pan toward the drain so that the water will naturally flow toward the drain. Building code says the shower pan needs to be sloped 1/4″ for every foot toward the drain. So if my shower has 4 feet from the drain to one end of the shower, the drain was 1″ lower in overall height than the edge that was 4 feet away. That's pretty goddam precise if you ask me.
But I watched a few more videos and figured I was ready to tackle it on my own. Even so, I usually procrastinated before a scary step like this and probably tried to justify wasting more time by watching a few more tutorials just to make sure I was doing it right. Yeah, that sounds good.
And when I finally did it? It was fun! I was so scared of this step, and didn't do a perfect job (there's a little dip before the drain where the water pools a bit) but I am soooo happy to have a walk-in shower and I never would have forked over the dollars to someone else to build my shower pan.
For the waterproofing part, a lot of people in the city get a hot mop to waterproof their shower (the moppers come with a big pot of tar that they wipe into your shower. I can only imagine how much that smells). But again, as I was looking for something I could do myself, I chose a PVC liner. All in all it was pretty easy to install. The cement pan was definitely the more thinky part of the shower project, and I will post a tutorial soon.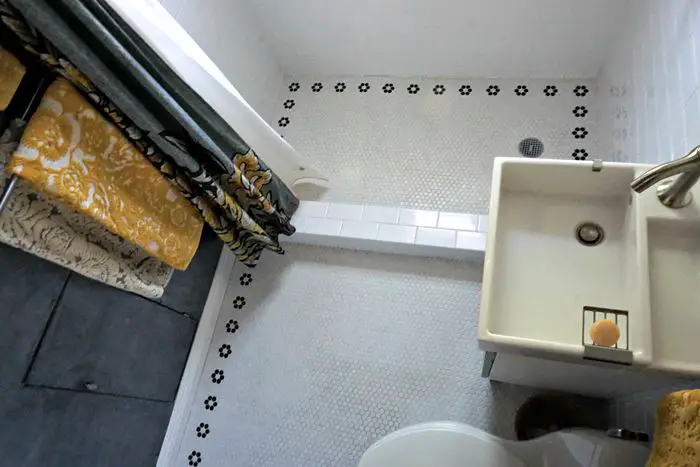 I also spent tons of time sourcing my materials. I searched and searched for the best deals. The more time you spend looking for a deal, the better chance you have of finding one. I guarantee it! I wanted some special hardware for my shower–external pipes and hardware with a detachable, hand-held nozzle. The only problem was that they were pricey. I saw prices from $1,000 up. Most were around $2,000. After several evenings, I finally found a close-out site that featured Hansgrohe products for a fraction of their original cost. I got my plumbing for 10% of what it would have cost. I would have to give up the hand-held nozzle, but I was fine with that.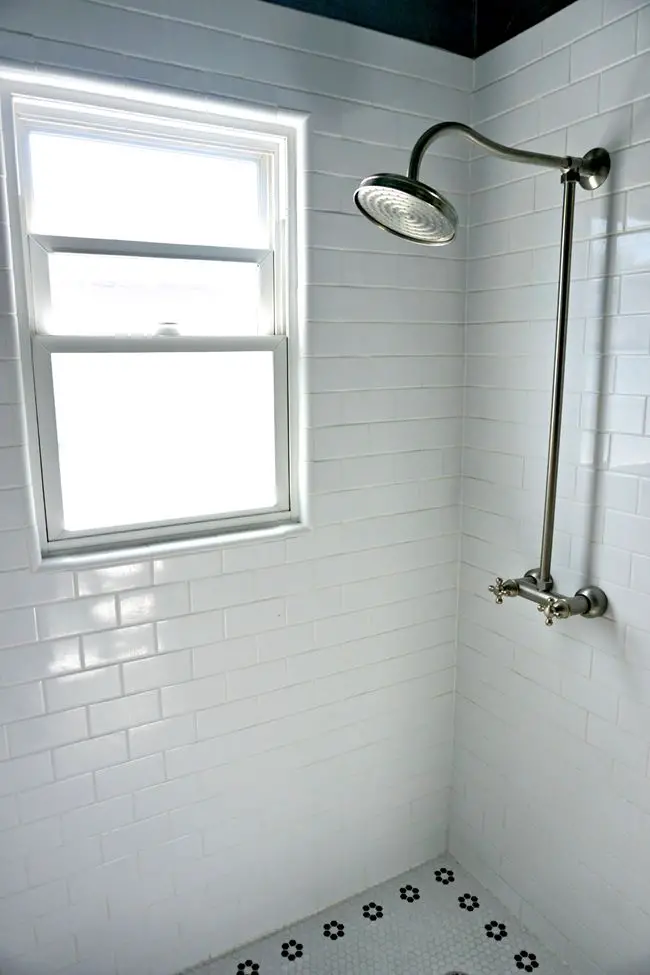 There were times I thought I was going crazy, too. (These were the times when I was doing something seemingly easy, but I could NOT get it done.) I was trying to put up cement board in the shower area (cement board is the backing for the tiles) To install the cement board, you hold it up against the studs and drill it every 8 inches or so into the studs to hold it securely in place Easy and straightforward, right? For some crazy reason, I could not drill into my studs. I kept on breaking the drill bits or I would strip the screw. I started buying bits like candy at the hardware store and probably purchased an extra box of screws as well.
A friend finally told me that the studs were old and dry (my little bungalow was built in 1942 and it's super arid here) and that's why I was having trouble."You need an impact driver," he told me. I had never heard of an impact driver. It's like a drill and a hammer together, he reassured me, and came over the next day with his impact driver to help drill those suckers in. It worked! (mostly) He still had to put all his weight into it and we stripped some more screws. But at least the cement board was up and I was ready for the next challenge.
I learned a ton of new skills doing the bathroom, as well. Part of the walls were removed, and I could see the electrical wiring in between the studs. I only have one outlet in the bathroom and thought it would be a good functional plan to add another outlet. I bought a book: Home Electrical 101, studied it, and learned how to add an outlet. I was so proud of taking on electrical! Then I learned that my wire was bent too much (at almost a 90 degree angle to get it into the outlet box)., and the outlet as a whole was within 18 inches of the shower enclosure, so it violated building code. Sigh. I spent so much time on that little step and now I was ripping it out. Such is an average week in the Michelle bathroom remodel.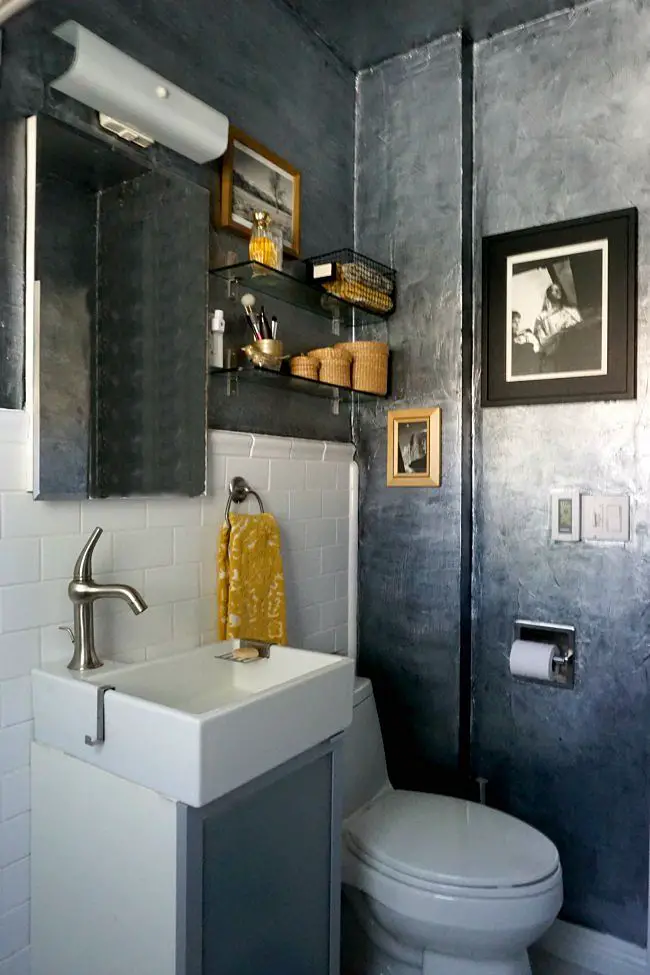 The whole process took almost a year to complete. I was without a shower for over six months. I figured it would motivate me to go to the gym more and grab a shower there, but in reality I was overwhelmed and couldn't get the thought of a workout into my head. Some of my awesome friends designated a spot for a washcloth and towel for me in their bathrooms. Wet wipes were in constant demand. At one point when I was tiling the floors, my toilet was removed for TWO WEEKS. I never felt so chummy with the bathroom at work. (Some days I showed up at work very very early.)
The toilet-less phase was probably the darkest period of the renovation. The whole process was not without tears. And doubts.
But, ultimately, I learned I could do it. It's not perfect. But it's awesome! Walk-in shower? Check. Heated Floor? You bet. I even added some secret extra storage space in the wall. Boo ya! And all for a fraction of what it would have cost if I had contracted it out. I never would have been able to afford to pay for the type of bathroom I have now. So of course I never would have gotten what I wanted without getting after it myself.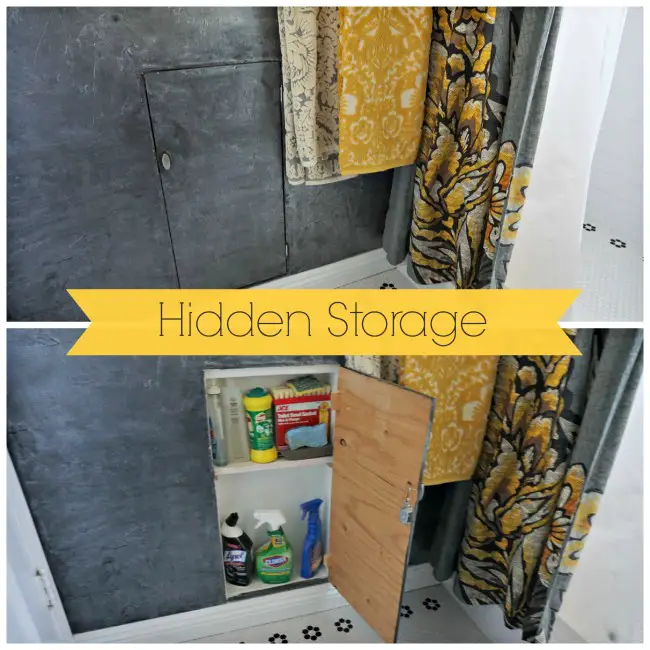 I used to point out the mistakes to my friends who would compliment my job on the bathroom. They would tell me that only I would notice those and that it looks fantastic. I started to embrace that advice (it took a little while). Now I can let go of any of those mistakes. I love my homemade bathroom. I can appreciate my lovely imperfection.
At one point in the early stages of the bathroom renovation, the bathroom subfloor was removed which exposed the floor joists. Because we don't have basements here, I was standing in the dirt of the crawl space below the bathroom floor with the floor joists at knee-level. A friend stopped by and, shocked when she saw me, exclaimed, "Wow! If you can do this, nothing about your home will ever intimidate you!" And you know what? She's kinda right.