Everyone loves a conquest story. One where the protagonist finds herself in the darkest of moments and overcomes all odds to find a way—when all hope seems lost. It is a tale of perseverance, faith, and the victory of good over evil.
Now, a bathroom renovation surely doesn't leap to the forefront of your imagination when envisioning such a tale, but I assure you it is not without its dark moments. And unquestionably there are opportunities to overcome all odds…
Such was the case for my friends John and Joni.
They were in the middle of their bathroom renovation and had selected a new vanity with a sink top. The old vanity was removed, making way for the new, which was delivered and awaited placement amongst the sparkling new tiles, shiny fixtures, and fresh paint. These are from IKEA.
But it's not that easy. The vanity was designed for two sinks and the sink top featured a single sink. So the vanity had a structural bar down the middle of the piece right where the center sink was meant to go. You can make out the back of it in the above pic.
How disappointing when everything is going so well to be shut down by a vanity.
What to do now? Their solution: why not try to find a cabinet that might work as a base to use with the sink top?
I helped them searching Craigslist for an ideal cabinet. The dimensions of the sink top were 47 inches wide by 19 inches deep. So a cabinet needed to fit those dimensions. After what seemed like hours searching through dressers throughout the LA area, we finally found it! At 48 inches wide, 18 inches deep, it wasn't a perfect fit, but it was darn close! An hour and a half in the car and it was ours.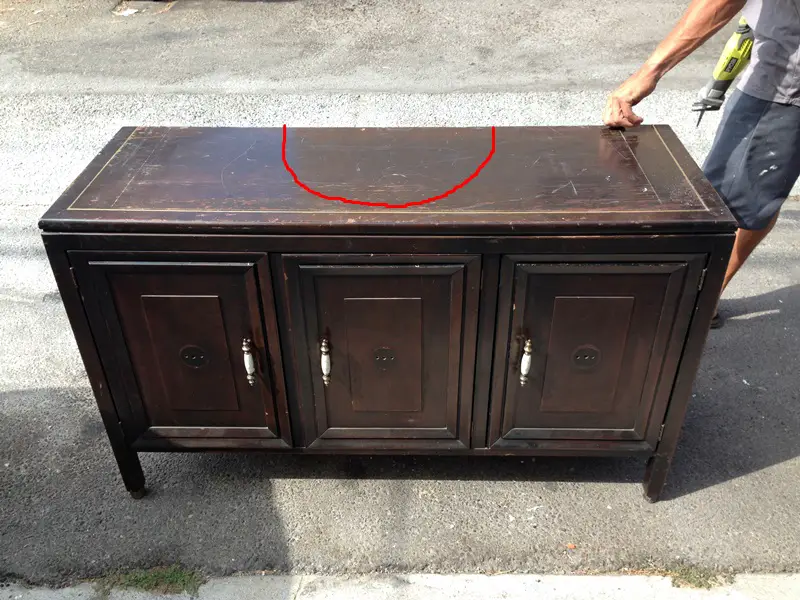 So now our task was how to make a vanity from a dresser. My boyfriend and I took a reciprocating saw and started cutting out an area in the top of the cabinet where the sink would nestle into it. (A jigsaw would have worked well here, but we only had the reciprocating saw.) The red line indicates the first cut we were to make.
I wish I had taken photos throughout this process, but I only have pics of the final fit. But this is the process. The sink bowl dropped down a certain amount. We measured this as well as the circumference of the sink. Luckily, we could keep all of the dresser's supportive structure intact while we cut out a bowl shape in the top of the furniture. After a fair amount of dry fitting, more cutting, dry fitting, and fine tuning, the top fit!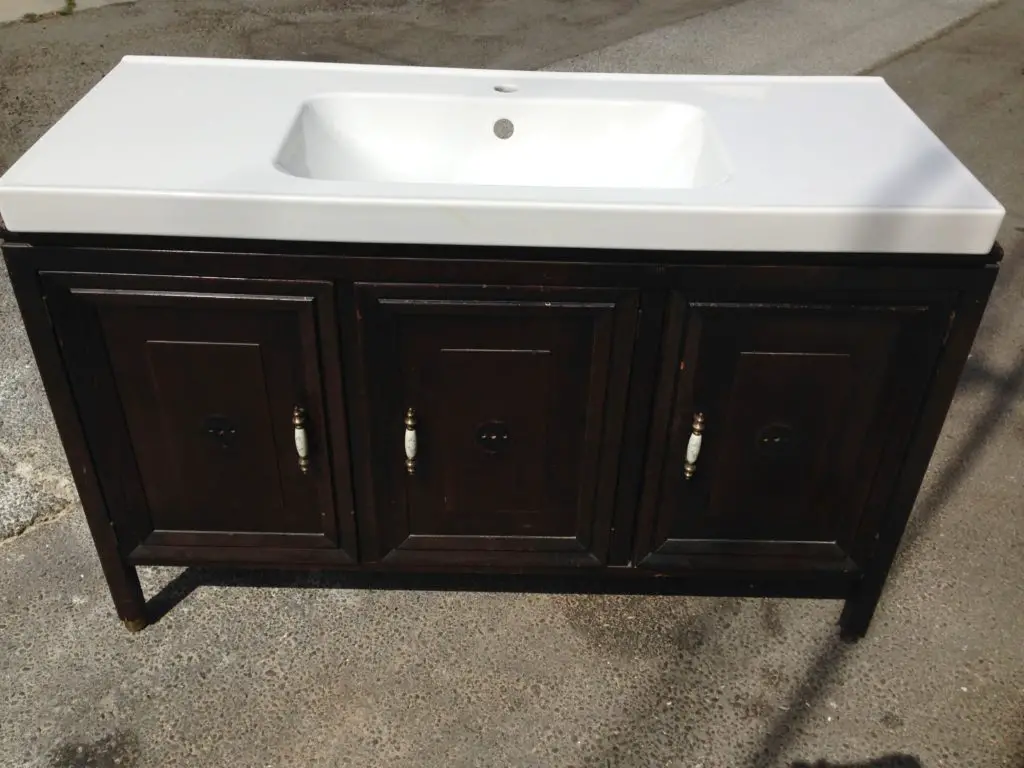 Once we were happy with the fit, we cut out a space in the back for the plumbing, and glued the top down. I should add that the plumber who connected the sink had to run out a few times to get adaptive fittings, all the while cursing IKEA plumbing.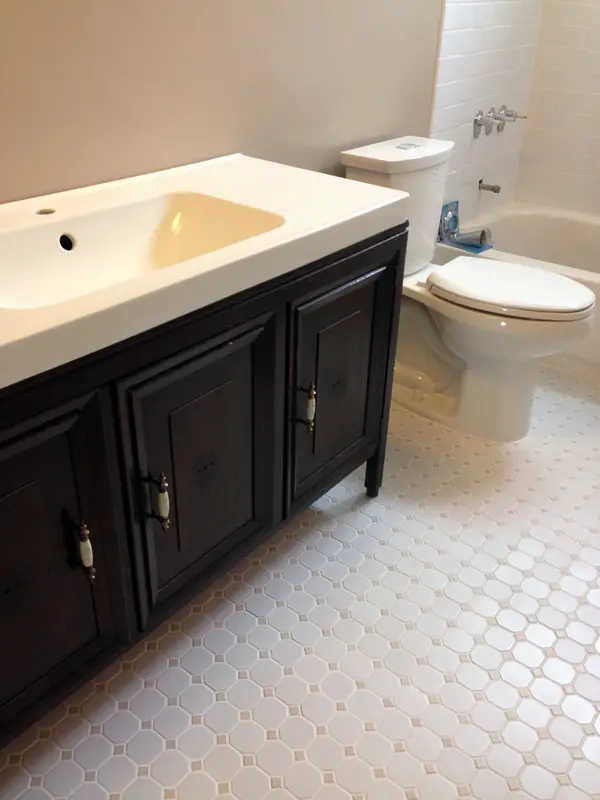 It looks so great in its new role as a vanity!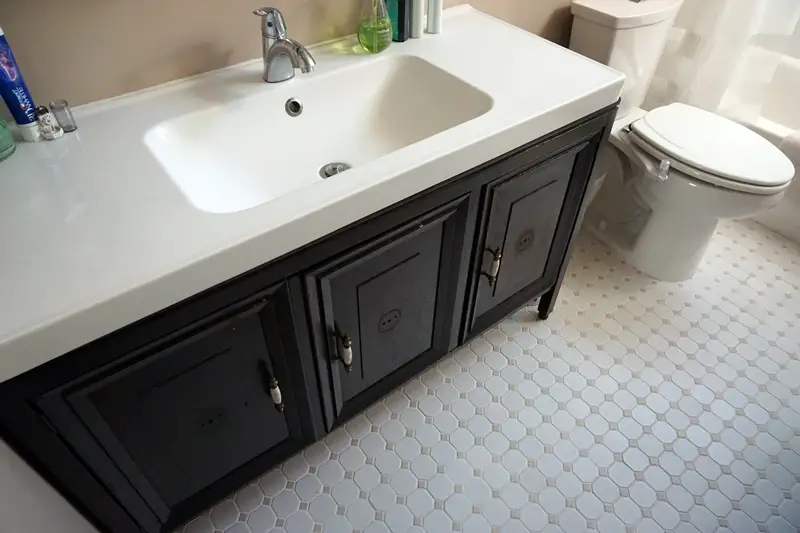 How do you create your own vanity from a dresser or chest of drawers? Either you start with your sink, like we did, or you start with your furniture.
Starting with a sink
Decide on your sink. Are you going with a solid top like this one? Or a top-mount sink? Or maybe a vessel sink?
Your sink will either dictate what size cabinet you may need, or it will guide what type of underlying structure you will want, for you don't want to cut into any structural elements for your sink or its plumbing. Determine the size of base you need. Seek a piece of furniture that works!
Starting with Furniture
Assess the structure of your furniture. Where are the supports? Are there supports only around the edges? Are there any cross-bracing down the middle? Do you have drawers that you want to keep intact? How high is your furniture?
The answers to all these questions may guide your options toward specifics. You may want to keep as much of the furniture intact, for example, and go with a vessel sink. Particularly if the height of your furniture is 30 inches or lower.
No matter how you start, eventually you will have to cut into your furniture. The scary part to be sure! Start conservatively–you can always cut more. Drill holes to start your cuts. Use a jigsaw, a handsaw, or a reciprocating saw. Whatever you are comfortable with. And throughout this process, make sure you leave enough of the furniture's supportive structure that the framework of the furniture is still intact. Connect the plumbing (or hire a plumber) and you're golden! Pat yourself on the back for creating an awesomely unique vanity that others will crush over! Your bathroom victory story is complete.