Like some of us, I grew up in a home with wall-to-wall carpet. We even had it in the kitchen! But in reality, I liked carpeting. It added warmth to the home in our cold Michigan climate, it was comfortable for sprawling out and reading books, and the crumb-swallowing shag carpet in the dining room (!?!) seemed modern.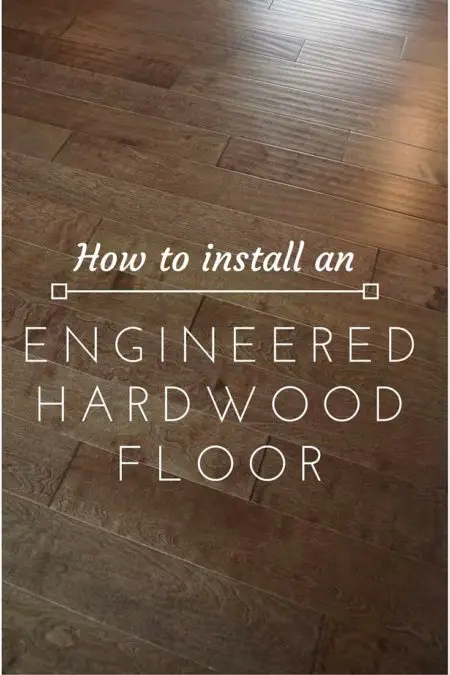 Ha! Those were the days. But I'm all grown up now and am loving my hardwood floors. I never have to wonder what dirt lurks under the carpet (—it's all directly visible on my floor!) or why the stains just won't come out. You're with me, I know it. And maybe all you have is wall-to-wall carpet but you dream of a fabulous hardwood floor. Well, if your dream self wants to install an engineered hardwood floor, I say go for it and this tutorial will help you get there.
We helped our friend take out the carpet in his place and put in his floor. Honestly, it's not too hard! (Especially if you've dome some tiling or other big house projects.) But there are some things to plan out and take into consideration, so this tutorial is separated into a prep stage and installation stage.
Prep Your Floor and Plan The Installation

Prep materials:
Hammer
Tape measure
Square
Utility knife
Chalk line
Knee pads (These are optional, of course, but I think they are an absolute necessity. Splurge for a nice pair. Your knees will thank you.)
Underlayment (our floor had specifications for an underlayment–be sure to check yours. Some floors are installed by gluing them down.) We bought the underlayment from the same supplier as the floor.
Step 1: Make sure the subfloor is solid, even, and clean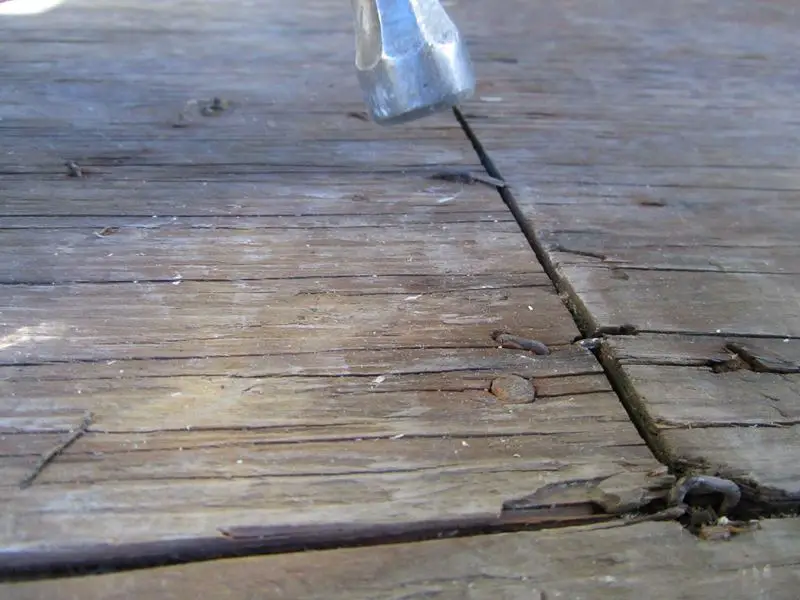 First, be sure your subfloor is structurally sound. For example, does it have water damage in a small spot? Replace that piece. Does it sag? Replace it. Does it squeak? Try adding a few nails. If that doesn't fix it, it's likely not secure and needs replacing.
Next even out any high spots. A smooth subfloor makes for a smooth floor, right? But how smooth is smooth? You can see in the image above we had a pretty rough subfloor to work with. It had TONS of staples from carpet installation. We removed most of them and some we pounded flat. Also, you can see a slight height difference between the aged sheets of plywood. We knew we were using an underlayment that would even out small discrepancies, and then as the boards were applied it would even out the rest.
Finally, clean the subfloor. Vacuum or sweep the floor to remove loose dirt and debris.
Step 2: Lay out the floor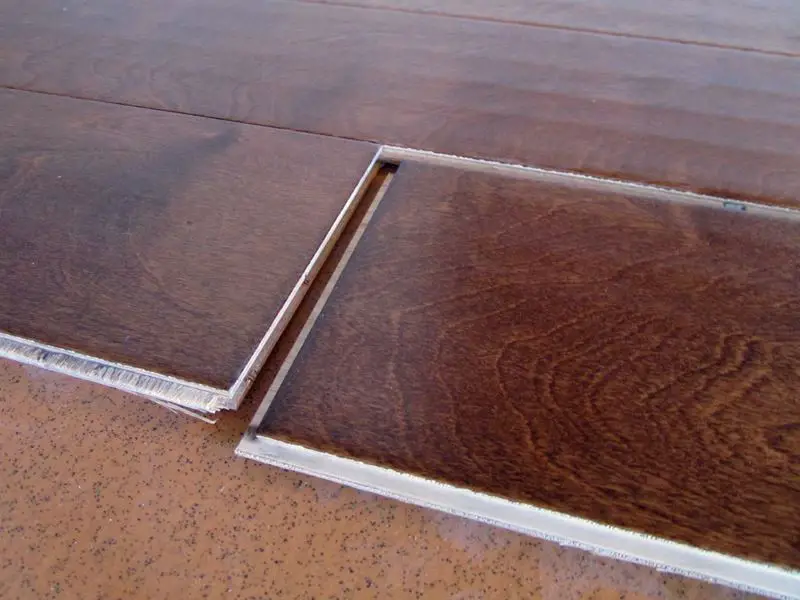 The fit is the most challenging and possibly time-consuming part of the installation. But it is soooo necessary for a solid floor and good aesthetics. Have a look at your floor boards. They have some sort of interlocking pattern like in the image above. That means you can only install the boards from one direction.
Lay out the floor pattern. Think about the direction in which you run the boards. The best option is to run the floor across the floor joists (perpendicular to the floor joists) to give it the best support. Another important consideration is the room aesthetics. You will want to run the floor in the same direction and the longest dimension of the room. And if you have a view from a major doorway or entrance you want to run the floor perpendicular to that view.
Take into account any special circumstances. Our installation had a wrinkle: we had a staircase. So this means we needed to get a special trim piece that's called a stair nose. The stair nose would take a floor piece locking into it, so we knew we needed to start installation above (from the right hand wall in the photo below) the stair piece.
Second wrinkle: because the stair edge would take a lot of hard use, we wanted to ensure that a whole floor board was right next to the piece, rather than one trimmed down for fit. So we needed to make sure that the point from which we start needs to line this way when we get to the stair nose. So how does one do that? Lay out the floor boards for a dry fit.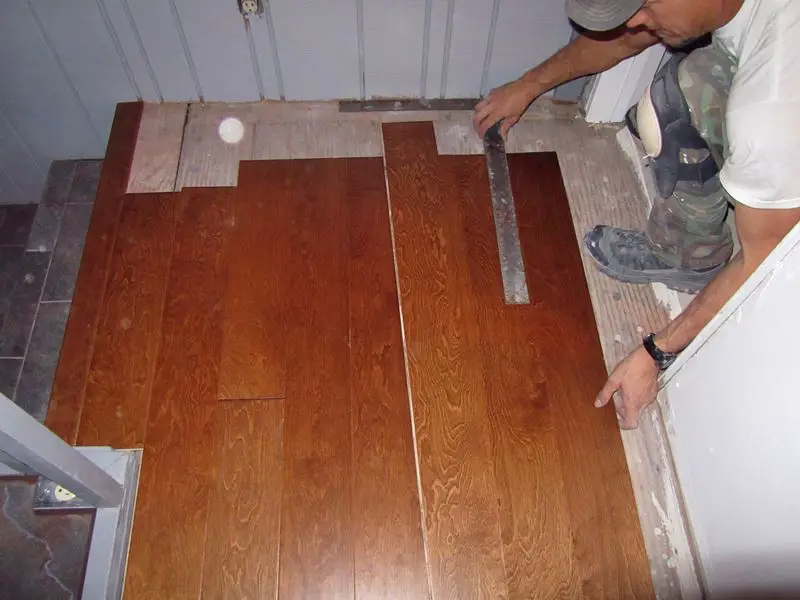 Here you can see the stair nose piece on the left and the boards being put together for the dry fit. The right side will be our starting side, so the dry fit will tell us if we start with a whole piece or a piece that is trimmed down, which is what we had to do. Also, you can see that Mike is checking for square and seeing where the board will meet up with the wall on the right side (sometimes your walls are not even). Because the walls were not completely square, we snapped a chalk line across the length of the floor to create our starting line.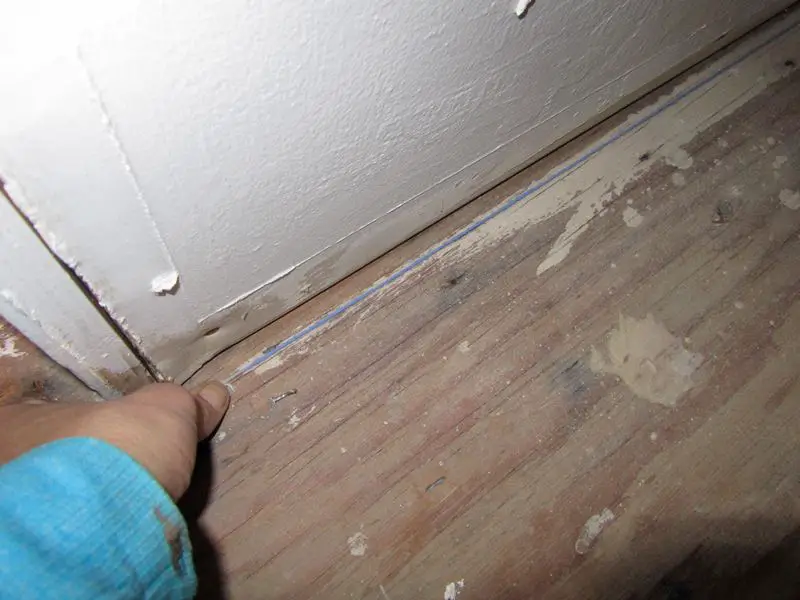 Step 3: Roll out and apply the underlayment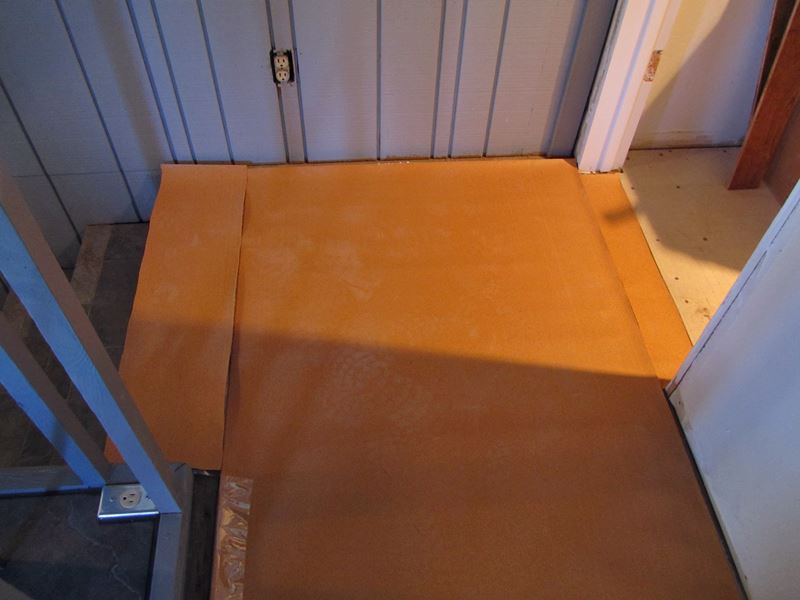 The underlayment recommended for our floor is slightly rubbery and can absorb some slight unevenness while also providing a vapor barrier. It had peel and stick trim on one side and we got it down in no time—just trim it to the floor shape with a utility knife. No need to secure it to the floor, once the floor is nailed to the subfloor it will secure the underlayment.
So now you've prepped the subfloor, and have a planned the installation. Here we go!
Install An Engineered Hardwood Floor

Supplies:
Your new floor! Per manufacture directions we took it out of the boxes and let it sit in the home for at least a week to adapt to the climate of the home.
A note on environment: Most floor manufacture directions will advise you on conditioning your flooring material to the climate of your home. Wood is an organic material and is susceptible to shrinking and swelling, so you want to be sure you are following their directions to minimize dramatic swelling changes and get the best installed fit possible. Do some extra research if you're in a humid environment, you may need to take more swelling into account during your installation.
Flooring Nailer (we rented ours for about $65 a day. We installed about 450 square feet in a day–a looong day. )
Air compressor and hose (you can rent this with the nailer)
Chop saw
Hammer
Cleats (size specified by floor manufacture)
Nails (size specified by floor manufacture)
Nail punch
Rubber mallet
Pry bar
Knee pads
Step 4: Nail in the first strip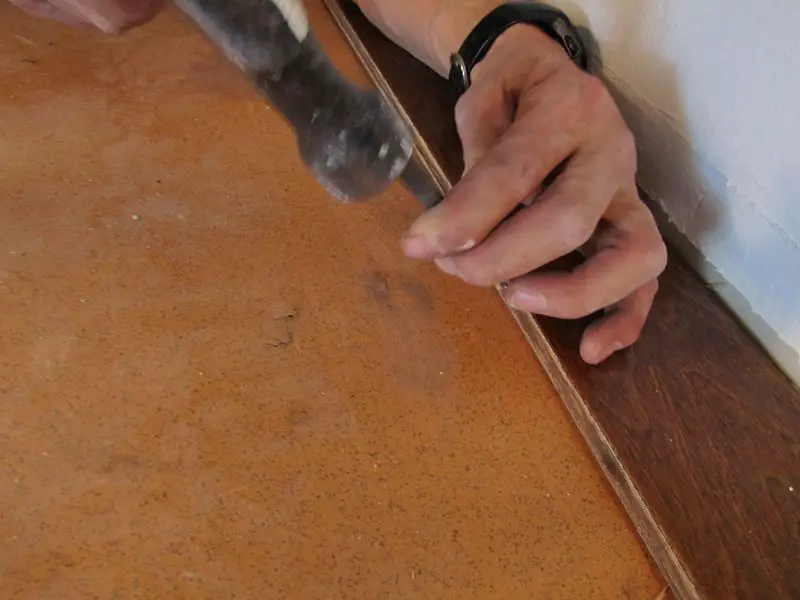 Create your starting point against a wall. Leave a small gap for expansion—your manufacturer will most likely specify the gap distance needed. Since the board is too close to the wall to use the rented floor nailer, these get installed by hand. Nail diagonally into the edge of the board and use a nail punch to snug it down. If your next board has trouble sliding onto the edge, you'll most likely need to punch that nail down a bit more. The pictures below (taken from a different part of the floor) are a better image of hammering in the nail and then following with the nail punch to snug it down. At least two nails per board are required, for a starting point I would add a few more for good measure.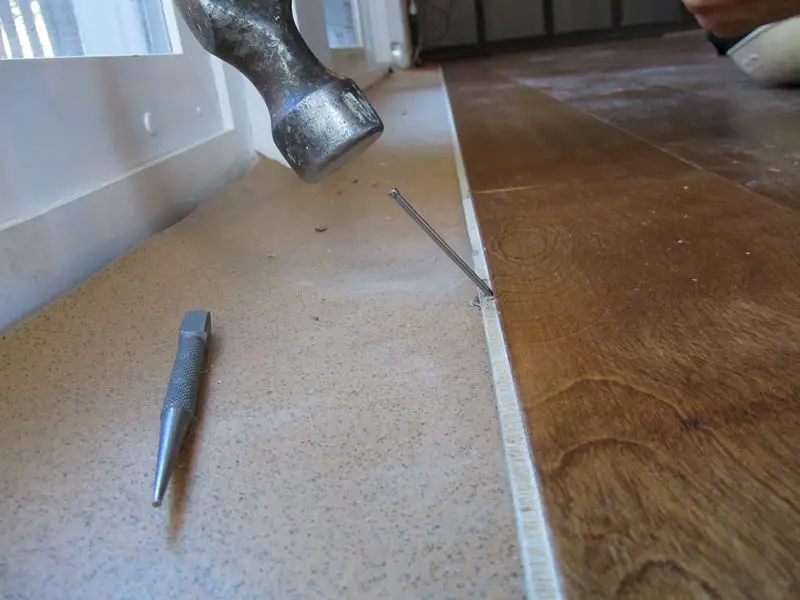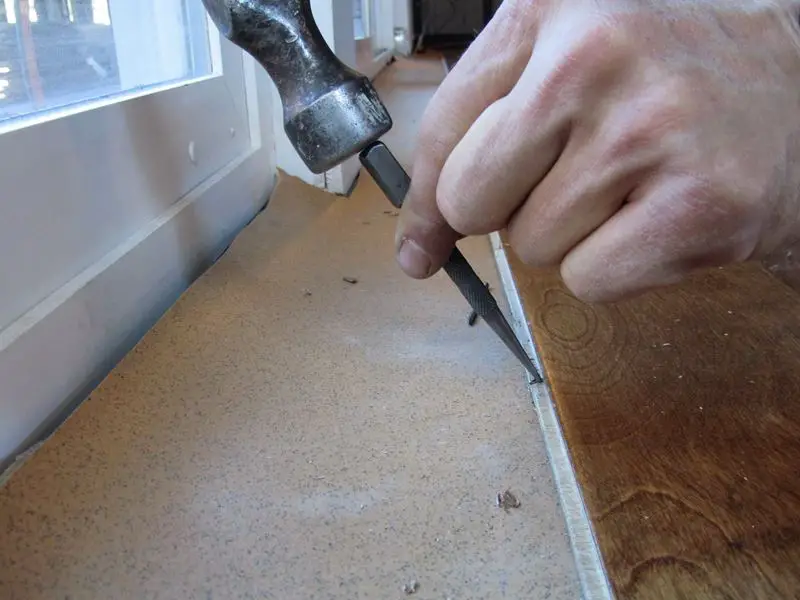 You may need to repeat the hand nailing on the second row if your flooring nailer doesn't fit yet. If you do add a second row, be sure to stagger the installation per the 6th step.
Step 5: Using the flooring nailer
If you are renting a flooring nailer you can do all the steps up to now before you shell out a daily rate for the rental. But now that you've got the beast let's figure out how you're going to use it. One tip: practice. Your rental folks most likely showed you how to load the cleats and attach it to the air compressor. Now test it out on a few scrap boards. The practice will help make sure the compressor is at the right pressure and help you master the technique. It's pretty easy to use, but harder to pull out the cleats if you make a mistake so get it dialed before you start on your floor. The rental place might even give you a quick tutorial.
First, you want to snug the boards together and line up the nailer. Use your hammer to tap the iron piece shown below which will squeeze the boards together. Mike is using his foot to keep the device flat just in case it wants to pop up when he taps it.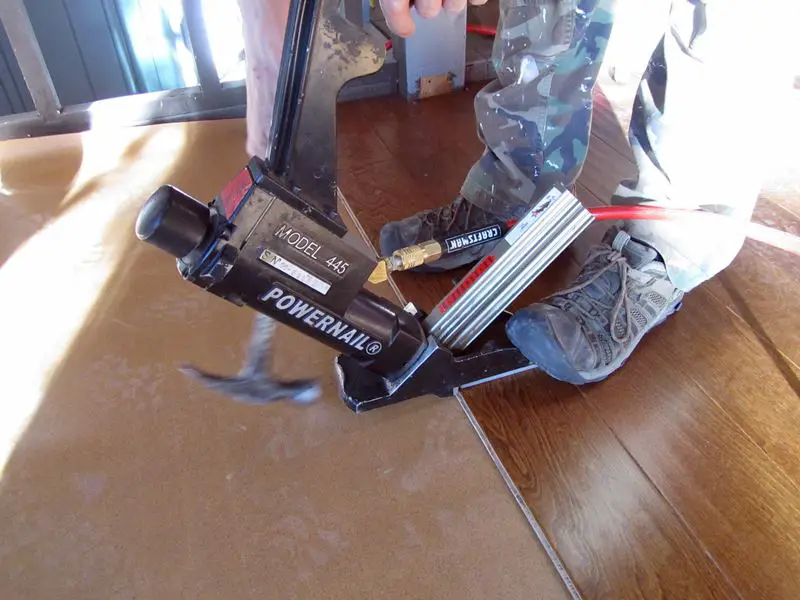 So you have the nailer and floor board both tight against the prior row, you then give a quick whack with your hammer on the big rubber knob higher up. This acts like a trigger and the cleat will be released. It's as easy as that! Move down to your next cleat location and repeat. Oh, and your flooring manufacturer may have specifications on how many cleats per board. You'll want at least two.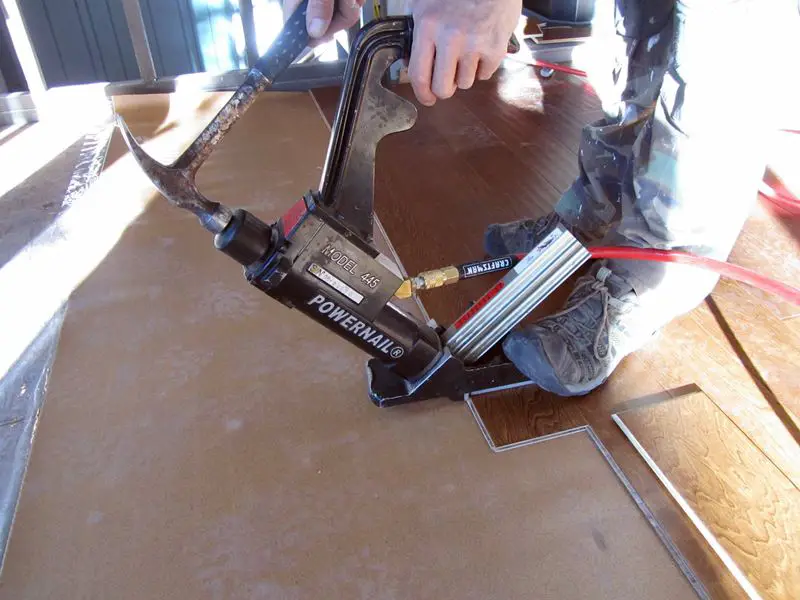 One last tip, as you are lining up and placing the boards, you may need a little help to get them in the groove of the nailed row. The picture below shows that a tap or two with a rubber mallet gets the trick done, but be sure to use some sort of wood blocking to avoid damaging the floor board itself.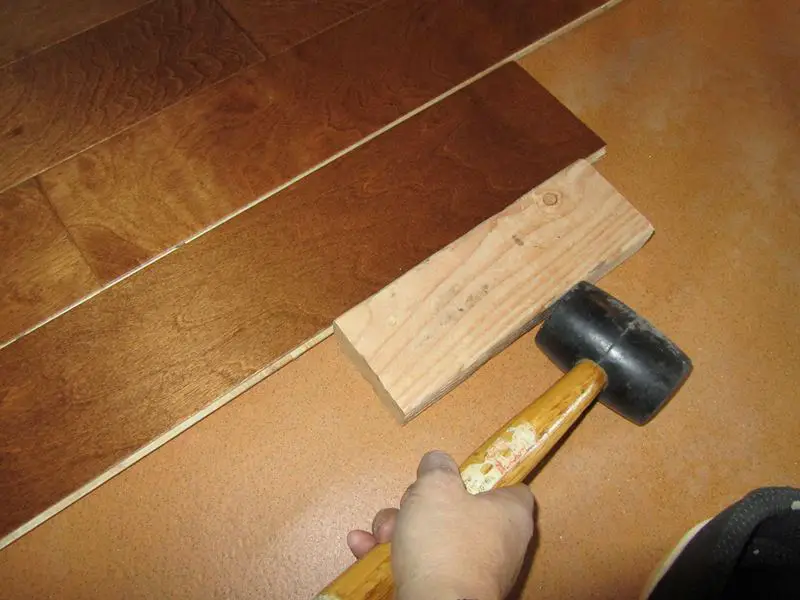 Step 6: Randomize the pattern (the rack)
As the floor boards get laid out, you want to be aware of how the end joints are lining up from row to row. It almost goes without saying that you want a random pattern in your floorboards, but you'll notice that there are plenty of installations that don't randomize and look terrible. Some common mistakes are spacing the joints too close to one another from row to row, copying the spacing every other row which ends up in what's called H-joints, and a staircase effect caused by evenly offsetting the joints in every row.
One way to avoid this is to start your next row with the cut piece from the row above (helps to avoid waste too!) Every once in a while you may have to insert a piece you cut to help space out the joints, but it will be minimal. Also pay attention to the pattern in front of any focal points such a hearth.
Step 7: Finishing the ends
Congratulations! You've nailed in most of the floor and now you're close to the end. Your flooring nailer doesn't fit on this next row, so you're going to nail them in by hand again, just like you did at the beginning with the hammer and then the nail punch. Here's the picture you saw earlier, we are at the end of the project here (yay!).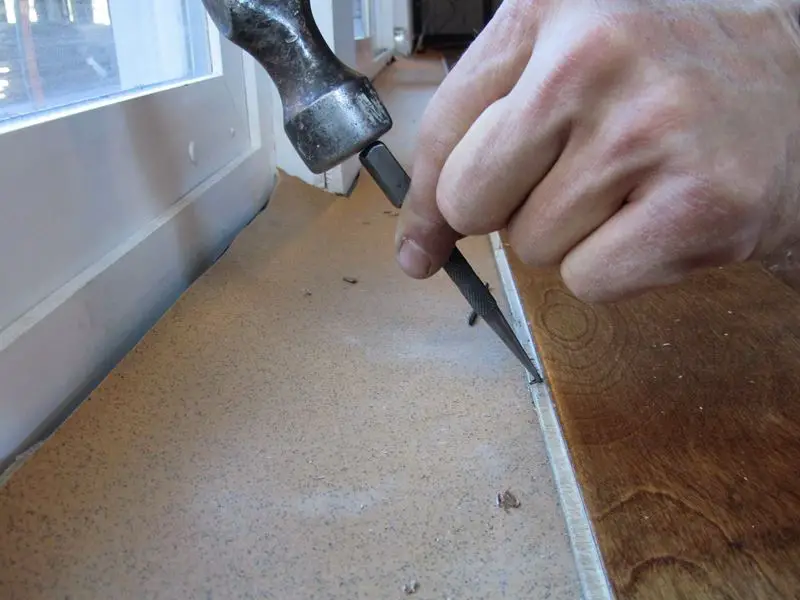 For your last piece you may have to cut or rip the correct width. Our piece was fairly small. (Remember, we chose to line up the floor with the stair piece which took priority with the width of the piece here.) Snugging the piece in takes a little bit of patience. Once you do that, it needs securing. But you've trimmed off the tongue part so what do you nail into? The floor board itself. Remember, it will be covered with toe molding or a piece of trim, so if you nail close to the edge it will remain hidden. But you still want to pre-drill your holes to keep it clean and make sure you don't split the wood. Choose a drill bit slightly smaller than the width of your nails.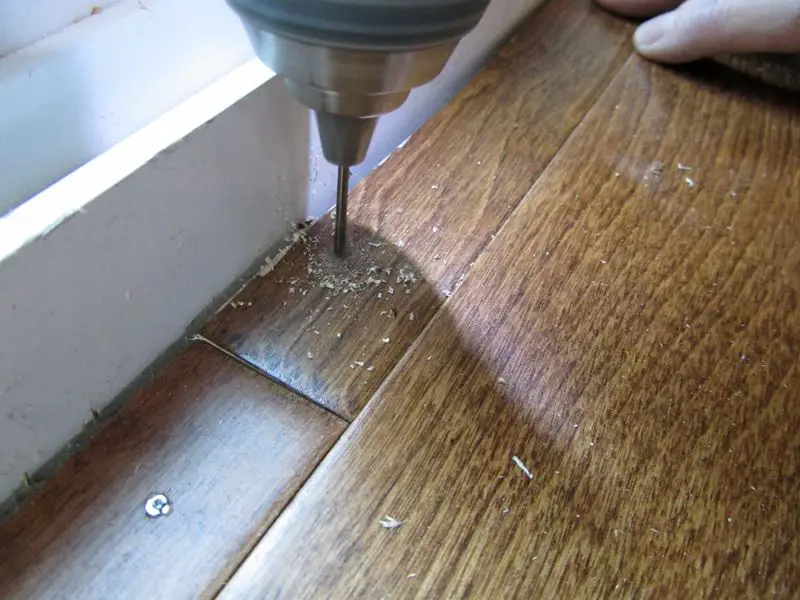 Once the holes are pre-drilled, we snugged up the board with a pry-bar (remember you want a little bit of space) and then hammered it in. Don't forget your nail punch to avoid hammer marks on the board.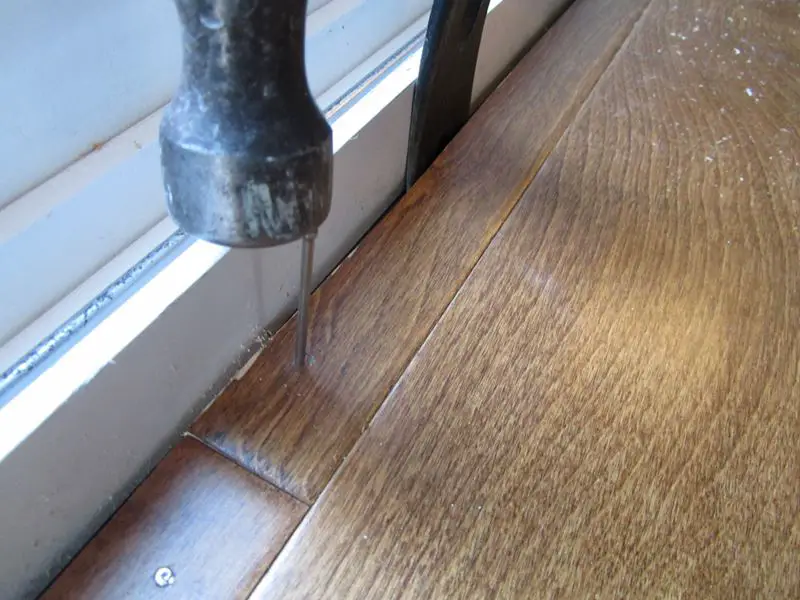 And you're done with the floor installation! Now you know how to install an engineered hardwood floor! Whew. And maybe you now look like this: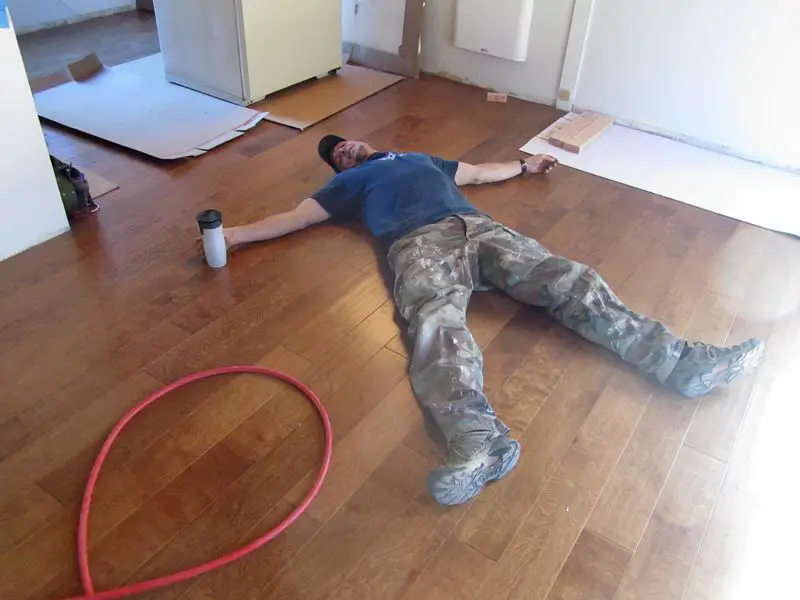 (There's a pic of me napping in exhaustion on the new floor as well, but since I'm writing the post, I get to show—or exclude—whomever I want, right?)
Before you return the rented compressor, you may want to use it with a trim nailer to install your baseboards.
Or save it for next weekend. Take a cue from Mike, above, and just enjoy your new floor!