For years I've fallen for the cute coir doormats printed with fantastic colors, patterns or greetings. They look fabulous the first few weeks after purchase, but soon enough they fade in the sun and start shedding coir fibers which get tracked into the house. So for a cleaner, long-lasting doormat alternative I decided to build my own DIY wooden doormat.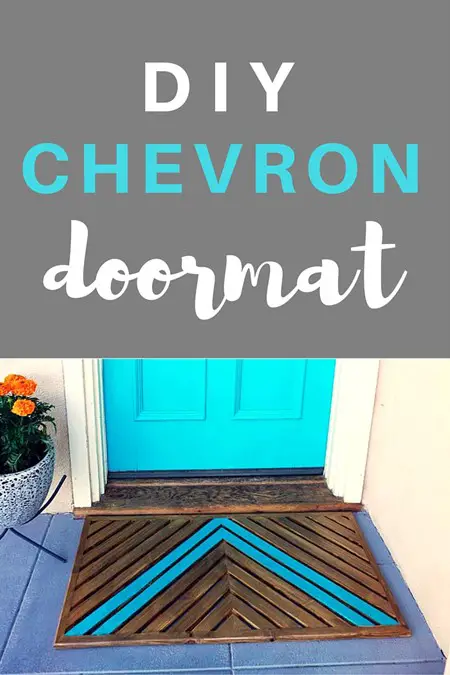 You can see how decayed my current doormat is. I don't know whether there are more dog hairs or coir fibers in the house. Also, when you look at the doormat, it seems like the proportions are just a little too small.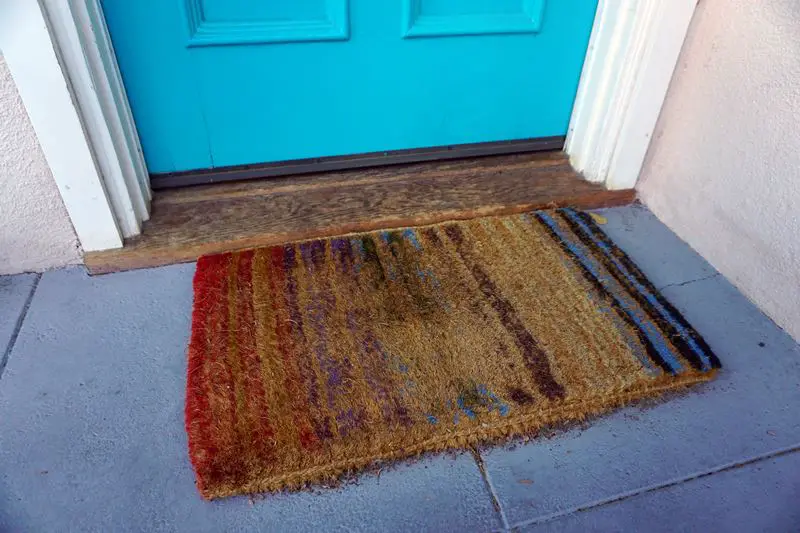 At first I wasn't sure what the options were. After a quick search, I settled on this design for inspiration. I LOVE the chevron! These beautifully crafted mats are not DIY, so I had to come up with my own template and variation.
My wood options at the local lumber yard were limited: pine, redwood or cedar. Pine is inexpensive but will not hold up to weather as well as redwood or cedar. I loved the color of the cedar best, but the pieces at the yard were so knotty that cutting strips would be a nightmare. So…a DIY wooden doormat in redwood it is!
DIY Wooden Doormat
Supplies:
1 8-foot long piece of 2 x 6 Redwood. Make sure your piece is as straight as possible. (If you don't have a table saw, have the lumber yard rip the piece for you. See dimensions further in the post for ripping widths.)
Wood glue. Look for one that says it is Indoor/Outdoor. Many wood glues are indoor only.
Varnish. Again, look for outdoor options, with UV protection.
Varnish applicator brush or sponge.
Clamp or two.
Tape measure, pencil and gloves (what project doesn't involve these?).
Mitre saw. (It's possible to use a hand saw and mitre box, but there's a LOT of 45-degree angles and the mitre saw makes it all a piece of cake.) Borrow one if you don't have it.
Table saw (optional) for ripping.
Brad nailer and air compressor (optional but suuuper helpful). If you don't have a brad nailer, you will need a drill, small drill bit for the pilot holes and 4D finish nails. Oh and a hammer and nail punch as well.
Sandpaper to finish the surface (again, optional but more professional).
Square (also super helpful).
Wood screws and drill.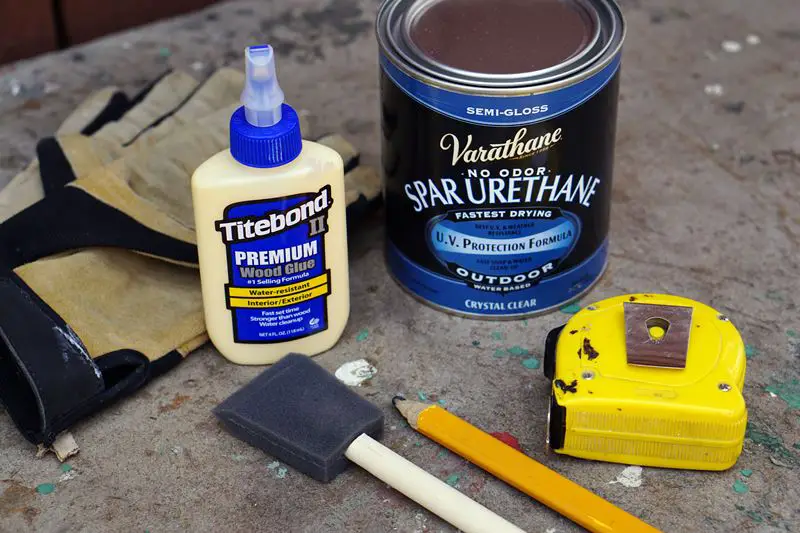 Size it up: I decided upon a 40 x 20-inch size for my doormat. Pretty wide, but I wanted it to extend to the door frame. We'll see how we like it as it gets used. I also knew I wanted at least a one-inch border, and a one-inch height on the doormat, so after a few calculations, I decided to start with an 8-foot piece of 2 x 6 Redwood lumber. In the end, that was juuust enough. I cut it close on a few cuts and barely had any leftovers. Here's a pic of the design process that demonstrates true genius:)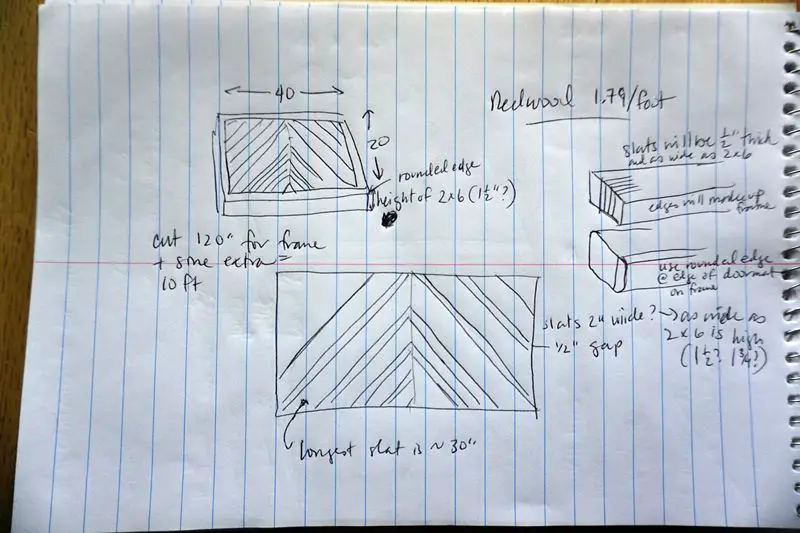 Rip it: If you haven't already had your pieces ripped, do it now. (A rip is a cut along the length of the wood.) I figured I wanted the naturally rounded edge of the 2×6 as the top edge of the doormat. I needed at least 120 inches for the frame and the 8-foot long wood is 96 inches , so I ripped a one-inch length off each edge of the wood.
Since I wanted the height to be one inch, and I was using two layers of slats, each slat would be 1/2-inch thick, which are your remaining cuts. For a nice finishing touch, I ripped 1/8″ off one of the rounded edges on the frame, since the inside edge of the frame is square. Here's a picture of the 2 x 6 after the cuts were made.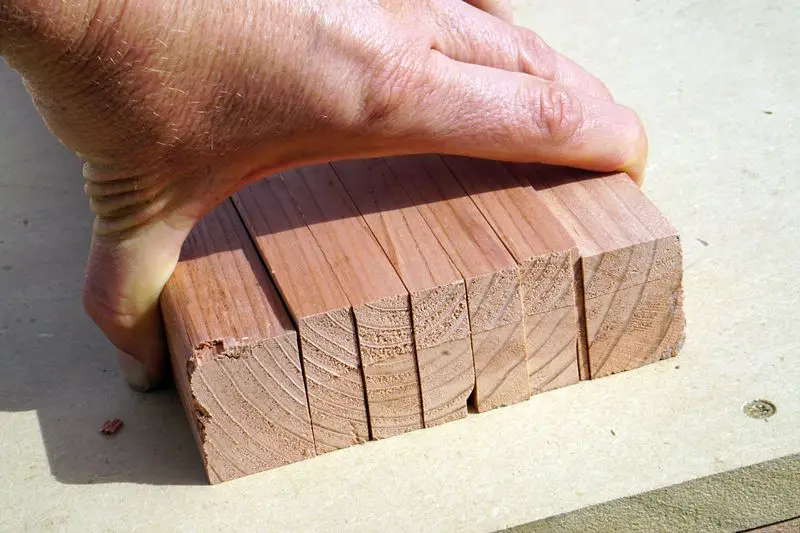 Frame it: It's time to start putting together your frame! Get our your mitre saw and cut the lengths of your frame. Again, mine is 20″ x 40″ so I cut 4 pieces slightly larger than this (you'll read why in a second). Then I cut the 45-degree angles. It's sooo much easier to cut these angles when you have a little extra room to play with, because it's easier to shave off a little bit, rather than cut off a blade width too much on your angle and then be sorry later. Apply glue to your joints and nail together with the finish nail gun. Each corner got four nails–two on each side. Clamp your piece if you can and let the glue dry overnight. Believe it or not, now your piece is solid! It hardly twists at all!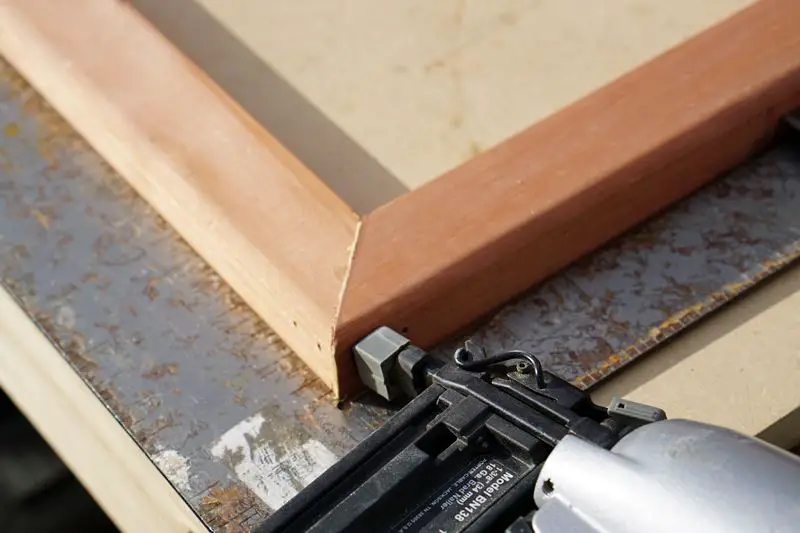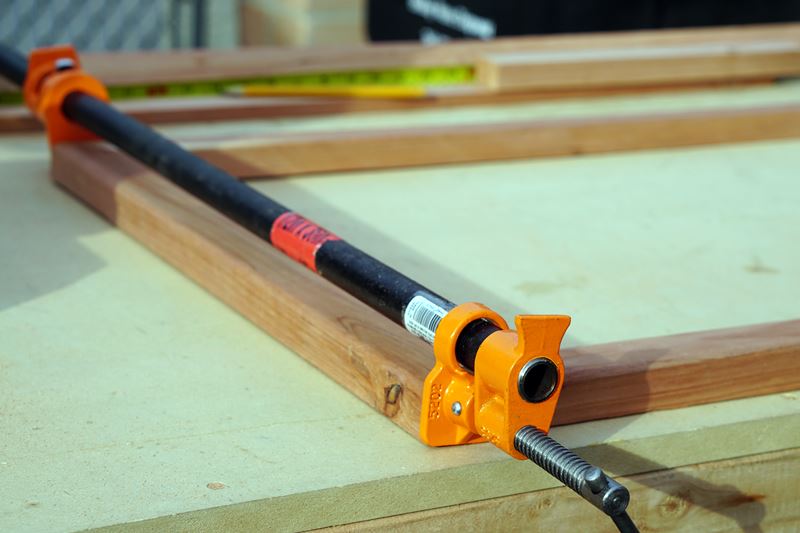 Lay out the vertical slats: You want to be sure you have a slat in the center of your mat to support the chevron points, so plan on an odd number of slats. I planned nine slats for mine. During the planning, I didn't necessarily want slats in the corner because I thought they would collect dirt there, but during assembly, it would have been easier to have that supportive slat along the ends as well. Space out your slats, clamp it together and get after it with your nailer.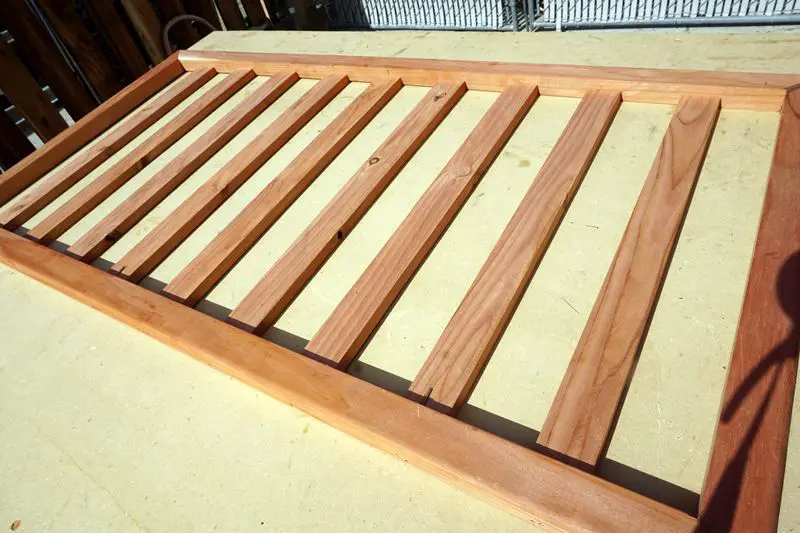 Now, here's where I made my big mistake (the first of several!). The border on the wood frame is about 1 3/8″ thick. Our finish nail gun holds nails that are up to 1 3/8″ in length. Palm. Face. I had to go out and rent a gun (about $20) with 2″ nails to complete my project.
This rented gun was burly, heavier than I expected. And the FIRST nail I hit with it went all wonky on me because I angled the gun wrong and the nail splintered out the bottom of the wood. Argh. To fix that problem I wanted something to be able to tell me when I was holding the gun level…so I taped a level to the top of the gun! I know…it looks pretty darn brilliant stupid. But it worked!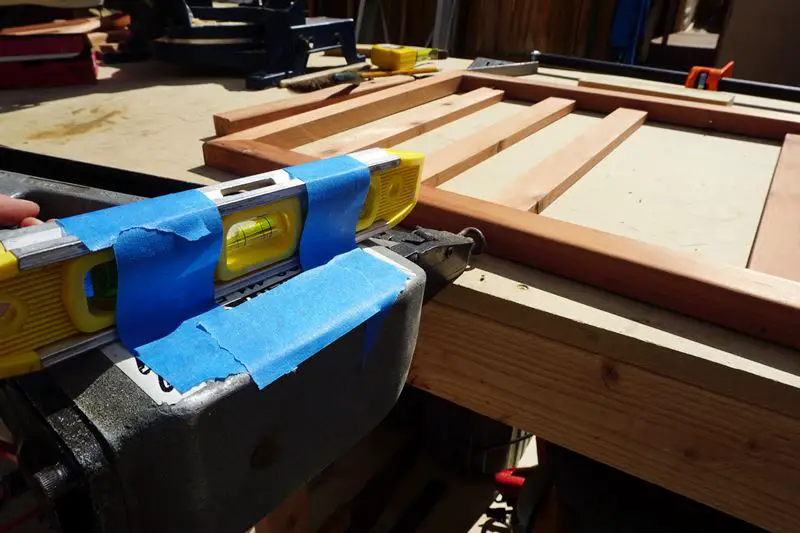 At least it worked most of the time. I still had to cut a few wayward nails and give it a re-do.

Installing the chevron: You'll need to know how much of a gap you want between your slats (I chose 1/2″) and measure lengths for your cuts. Cut the slats a little longer than you estimate–I didn't err long enough and had to make a few adjustments as a result when it came time to place it all. Mine looked like this as I was laying it out and making cuts.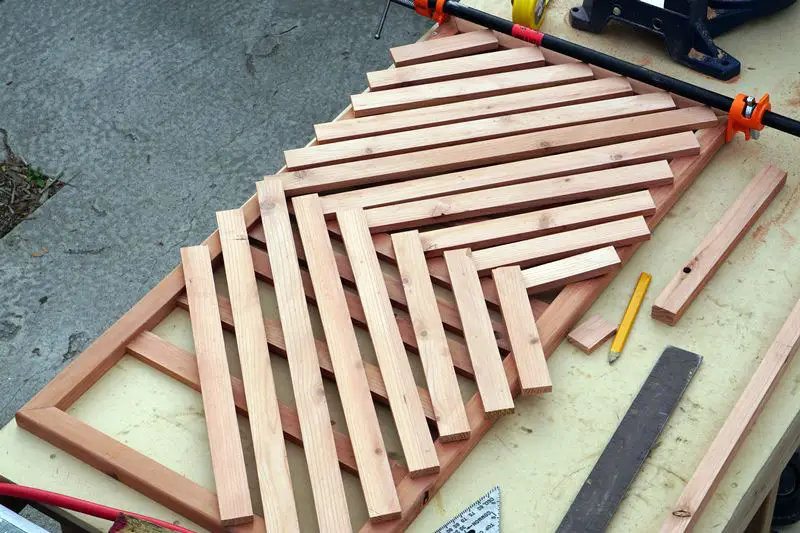 Now add the 45-degree cuts. I started with the middle chevron, cut 45-degree angles on the center line (I also drew a center line on the board to make sure they were placed properly). You can see, too, in the bottom left of the picture below, the square has a 45-degree angle which I used to ensure correct placement.
Place your pieces together and go to the next, measuring your gap. I used a leftover piece of the 1/2-inch slat to provide my gap.
As I was laying out my pieces, I realized a few were too short and had to adjust my gap length at a few places to compensate. Whoops. Here's another time where I have to let go of the imperfections and accept it will still be fabulous. If you look closely at the finished product, you can tell the gaps aren't uniform, but nobody will ever really notice.
As you lay out your pieces, mark and trim your ends, and cut!


I didn't glue the vertical slats, but in order to keep the top chevron slats sturdy with all the foot traffic that would cross them, I wanted them glued. Quickly spread glue on your ends and on the bottom slats where the top ones will cross them, and nail them in. You can see in the pics below I clamped a piece of wood down on top of them to hold them steady while nailing. (And another shot of the taped level in action!)
It's really fun to see it come together at this point. Your chevron tips will need some stabilizing, so I turned the piece over and applied wood screws (I used 3/4″ screws) from the back. Except it was late, I wasn't paying close enough attention, and I started drilling my pilot holes from the top! Yup, more imperfection… (I didn't even have the heart to photograph it.)
Finishing: Voila! You can choose to finish it further or just go with this for a while. I wanted to sand it down because some of the edges ended up higher than the edge (the wood was a bit warped). You might be able to see the high edges in the image on the left. Five minutes with 120-grit sandpaper and an orbital sander smoothed it right out.

I also wanted to get rid of some the gaps and screw holes with some wood filler. I used colored wood paste in all the gaps, let it dry, and then sand it again.

On the left, the wood filler really helped fill in one big area where again I wasn't focusing using the nail gun and the nails grazed the finished surface instead of going into the wood (twice!). And you can hardly see the holes where I drilled from the wrong side. Yay! It's like applying cover up under your makeup:)

Finally four or five coats of varnish (water-based, UV resistant) on top and bottom. On the bottom (right pic) you can see the screws under the chevron points.

 And the DIY Wooden Doormat is finished! It's super solid and we've been wiping our feet and walking on it for several days now. (Now I realize I need to sand and varnish that threshold!)
Update: I recently made another one that better matched the front door. What do you think?