Summer is coming fast and outdoor living and celebrating is here! Make a BIG impact on your occasions with a DIY Hand Lettered Pallet Sign.
Last year a friend asked me last year to do a menu sign for a local fundraiser. The event includes a silent auction and dinner that takes place at a nearby cattle ranch. She sent me a photo that served as the inspiration for our pallet menu. (source unknown)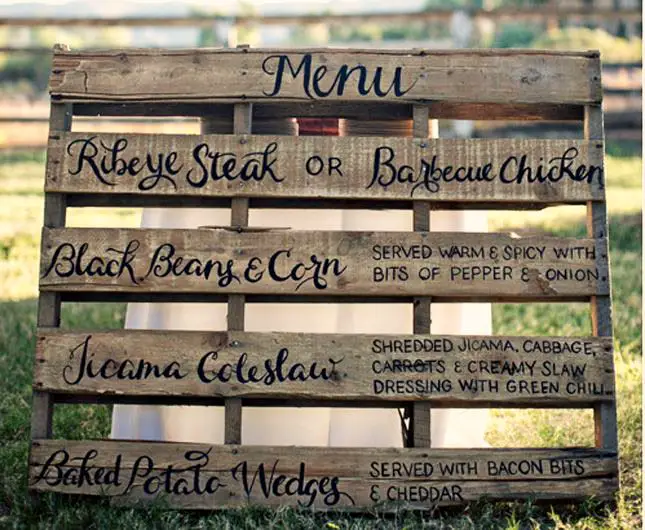 How perfect is that for a ranch event? But these signs are really great for any outdoor occasion: graduations, rustic weddings, 4th of July parties, heck, even garage sales! And best of all it's pretty much free!
Here are some tips for making your own!

Selecting the pallet
Pallet projects seem to be everywhere in the DIY world, but where are all these great pallets that everyone is using? Our local dump has a big pile of pallets that are free for use. But if you don't live in a small rural town like us, or have no clue where to find them, here's a great resource for how to source pallets. Just a note that a lot of companies get a deposit back when they return a pallet, so if  you see one lying about, it might just be waiting to be returned.
Also, pallets have a reputation for being injected with insecticide. Since you are only using these as a temporary sign, it's up to you whether you want a non-toxic one or not. This guide will tell you how to identify exactly how your pallet has been treated, and whether it is toxic or not.
Finally, look at the quality of your pallet. Is the wood intact? Does it have a lot of knots in it? Does it have a really rough surface? (If so, it might require sanding for your lettering.) Some of the pallets have boards that are really close together and some are spaced out. You'll probably know the overall aesthetic that you're looking for and will be seeking out a pallet with those qualities.
If you're out scouting for a pallet, you might want to keep some work gloves in your car as they can be really splintery. And they're not that light either, so gloves will be super helpful while you're handling it.
Lettering
Now that all those pallet technicalities are out of the way let's get down to the fun creative part!
First, write out your text. Know what you're going to put on the pallet. Is there a lot of text? Consider making large lettering for the main ideas and then smaller letters for details. Is there a little? You might want to take some of the boards off the pallet for emphasis.
Next, figure out your text placement. I did a quick and dirty sketch with a pencil to approximate the word spacing. Take any knots into consideration. My four-legged consultant didn't weigh in on the design so I was on my own.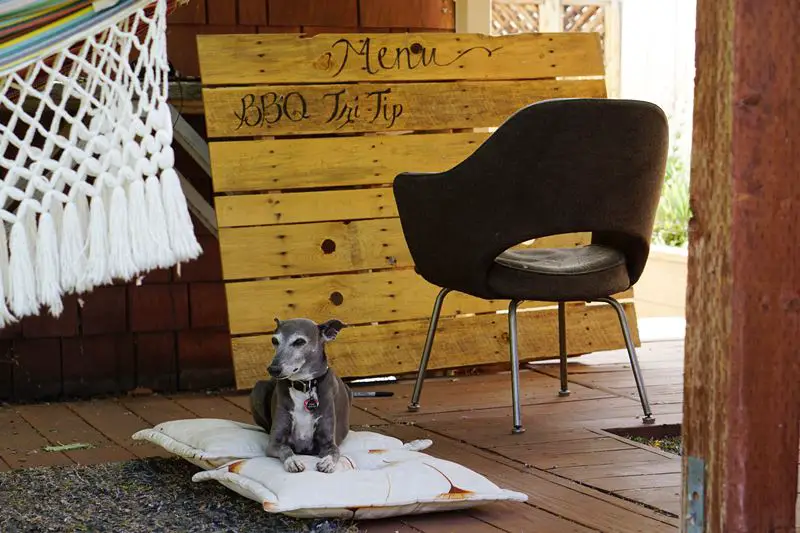 Now select your lettering! If you're not the creative type you can get some lettering stencils, or download some free hand lettered fonts here or here. (There are tons more you can find if these aren't quite fitting your needs, just search for free hand-lettering calligraphy or fonts). Print out a large size and trace onto your sign. I used the inspiration pallet for reference and drew my own letters (that's why they are not standardized) for a truly homespun look. The options are up to you!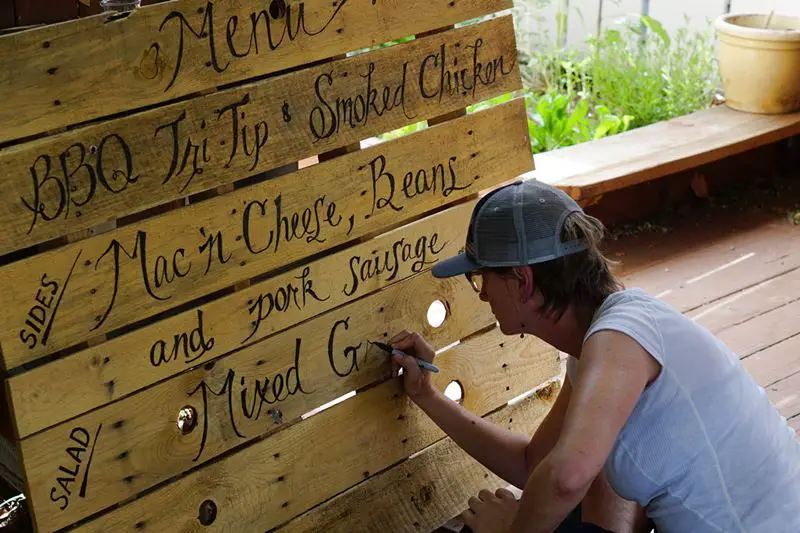 Now that you've traced an outline, you can fill in with anything. I used a sharpie marker to fill it in. The rougher the pallet, the more it will chew down your sharpie. Likewise, if you are painting it, you will want a smoother surface.
So that's about it! I love to stand back and admire my work…often accompanied by an adult beverage for that special pat on the back:) Following are pics of this year's and last year's hand lettered pallet signs. The flowers are a bit wilted, but in the last pic you can see some daisies tucked into the pallet to show off it's rustic charm.
How would you use your sign?