I'm so in love with our new concrete pavers. They are the perfect addition to a walkway on the side of the house that used to be covered in pea gravel.
If you've ever had pea gravel, you know that it winds up everywhere.  The gravel pieces get stuck in the tread of your shoes and travel with you. Our Redwood deck next to the pea gravel is pitted with gravel "kisses," and the gravel found its way into the house, making walking barefoot a household liability. Pea gravel even showed up in the bathroom. The bathroom!
Now, you don't have to have spent time completing a DIY bathroom renovation to be horrified by the thought of pea gravel destroying your tiled floors and grout.
Time for a change!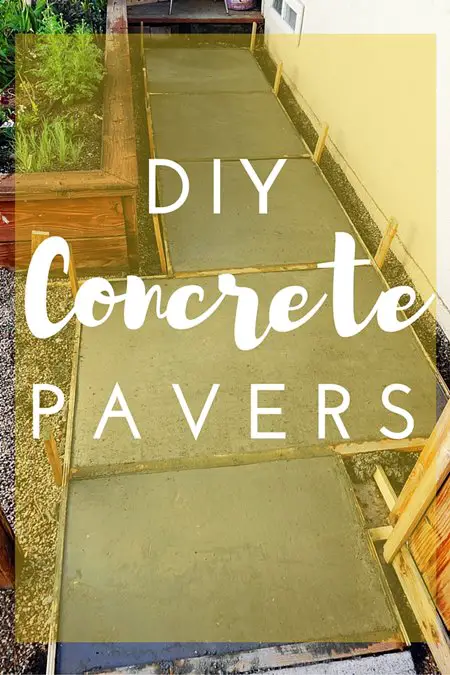 "We can fix this with some concrete pavers for about $20 and a half hour of our time," stated my boyfriend with confident authority. I was impressed. "Wow, he really has a great solution for this one," I thought. So one Saturday morning we went to the hardware store to shop for some concrete pavers.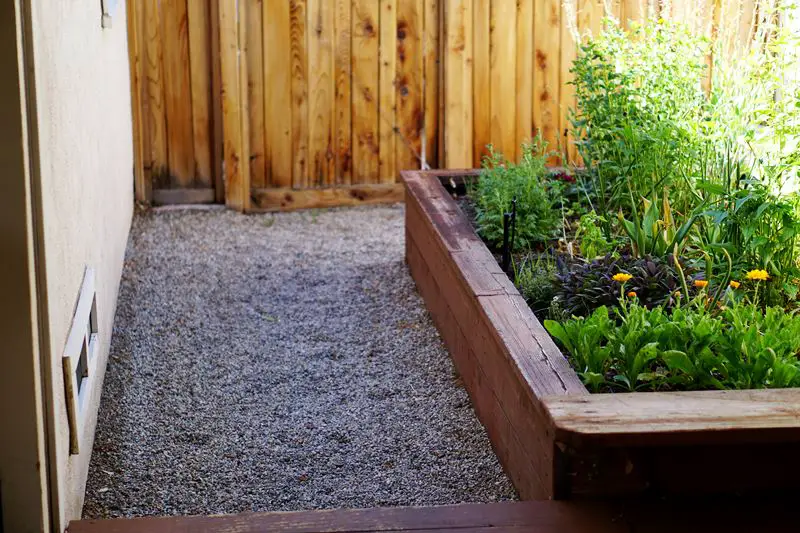 We quickly realized our limited options for covering the pea gravel.
The fairly inexpensive 12″ x 12″ pavers seemed like small stepping stones to me.  I wanted a bigger field of cocnrete pavers for the area. The store had larger ones, but they of course came with a larger price tag. And they were only 24″ x 24″ which seemed barely large enough. Plus we had a weird little bend in the path which would be tricky with the larger square pavers.
"Maybe we can make our own concrete pavers?" I asked my boyfriend.
"Maybe we could…" he said as he mulled it over.
So instead of buying concrete pavers for $20 and a half hour of our time, we left the store with 6 bags of concrete, some concrete dye, and a few 2 x 4s for framing. Our relaxing Saturday plans changed quickly.
DIY Concrete Pavers
Materials:
Mixing pan or wheelbarrow
Concrete (get regular concrete, not quickcrete which will dry too fast for larger pavers)
Wood for framing the pavers (plywood or 2 x 4s)
Shovel for mixing (a flat-bottom shovel works best)
Water (preferably from a hose)
Concrete tools: a steel float or finishing trowel, and a diamond shaped mason trowel
Drill and screws
Level
Step 1: Prep and Layout
The best thing about making your own concrete pavers is that you can completely tailor them to your space. I have to admit I was pretty excited as we started figuring out the shape we wanted.
To first prep the surface, get everything fairly neat and clean. We had to remove all the pea gravel (only a little would go back along the edges of the pavers) and then dig out some of the dirt too. The base should be compact. It should also include a 2-inch layer of crushed concrete and a 1-inch layer of sand. If the base isn't stable, the pavers may crack. We just put the pavers on the compacted dirt, which was an old driveway.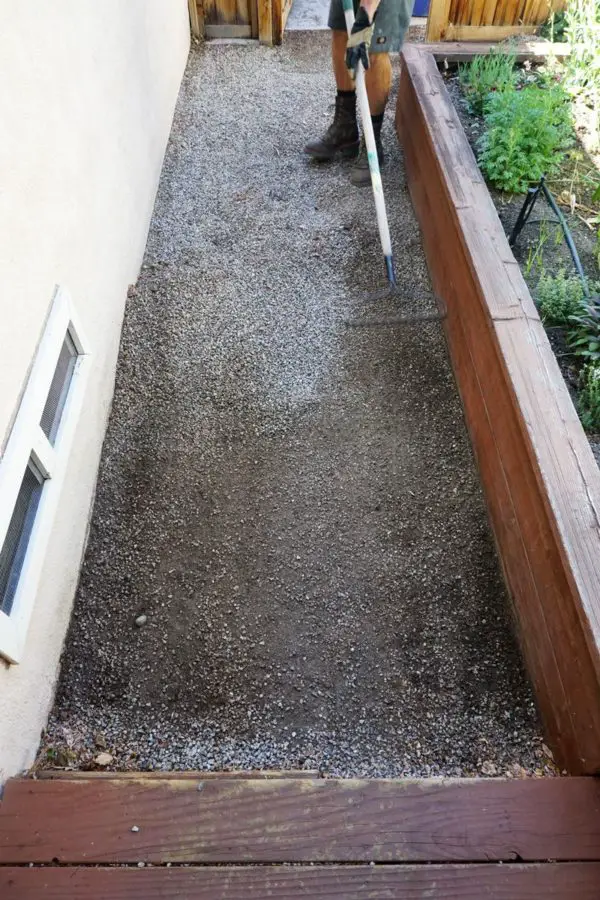 Measure out and plan the paver sizes and mark them. Mike and I talked about how much of a gap we wanted in between the pavers and along the sides and adjusted from there. Think of where your top of the paver will be and whether that makes a difference. We have a driveway on the other side of the gate which we wanted level with the pavers so the driveway dictated our surface level.
Construct your frames. We stretched out the long 2 x 4s along the length and then screwed in the side bars. We wanted the pavers around 2″ thick so we ripped a 2 x 4 along its length to 2 1/4″. A table saw is helpful but many lumber yards will do this for you as well. The best depth for concrete pavers is 2 3/8″ thick, which can distribute the weight of a couple of people at once.

You can get an idea of the vision for our pavers in the photos above. Remember we said we were going to try to get it level with the driveway outside the gate? Well we got fancy with the level line and used a string with a hanging level on it which you see stretched along the length of the frames. Be sure to also check for in the cross bars. And in order to keep the frame in place, we hammered in wood stakes along the sides. Here it is all finished, level and ready for concrete!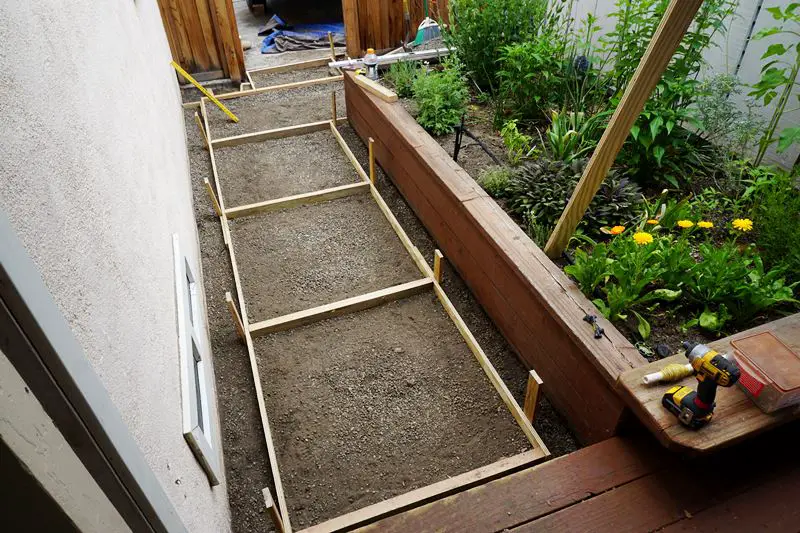 Step 2: Mixing Concrete
Mixing concrete is not fun. Neither is mixing 13 bags of concrete is not fun. You read that correctly—we had to get more bags of concrete. But I'm getting ahead of myself.
The bags of concrete typically come in 60- and 90-pound bags. We used the 90-pound bags (really really heavy!). First of all, have your boyfriend place the bag in your mixing pan or wheelbarrow and start adding water. Then I add about a gallon of water to start and then begin cutting into the concrete with the shovel and mixing in the water. It is impossible to mix the whole thing at once. My boyfriend's technique is to pile the concrete on one side of the wheelbarrow, and start taking small bits of the concrete to mix with the water. Then move this to the other side and get your next bit. It works well.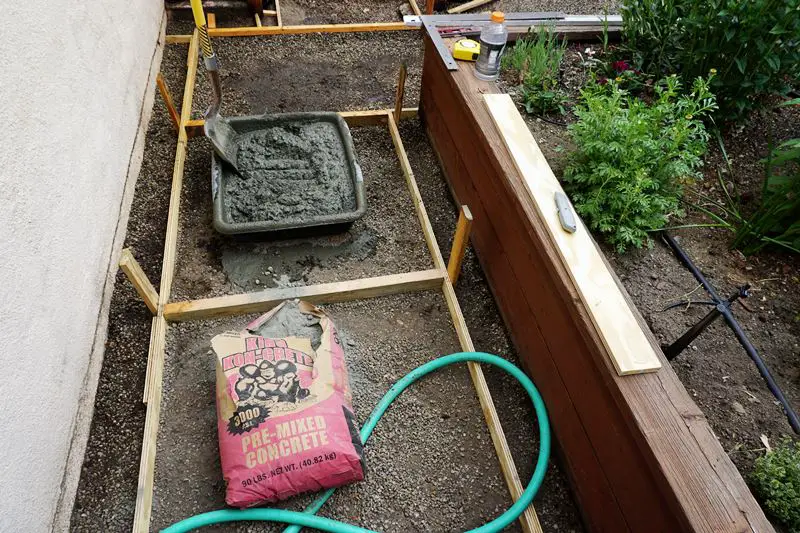 Thoroughly wet the concrete, but don't get it too wet. It should be a sludgy consistency, not soupy. Can you see how the mixed concrete in the image above will hold the shovel marks? You'll find it's hard work mixing in all the concrete with the water—it gets heavy. I have to admit I needed to put on my big girl pants for this one. All in all each bag took me about 15 minutes to mix. (My back was sooo sore!)
We wanted to color the concrete but after reading the directions on the powdered dye, we realized that we would need to but a $7 bottle of dye for each bag of concrete. Not so cost-effective. Instead, we would figure out something else so we skipped the dye at this point and set it aside for return.
Step 3: Making the Concrete Paver
Begin by wetting the area to which you are adding the concrete—it just plays nicer that way.
We poured the concrete into the paver frame and started smoothing it out. Quickly we realized that each paver would require more than one bag of concrete (around 2 1/2 actually) and I got to work mixing more concrete. As I did this, Mike piled the concrete along one side of the paver with a trowel and roughly evened it out along the top.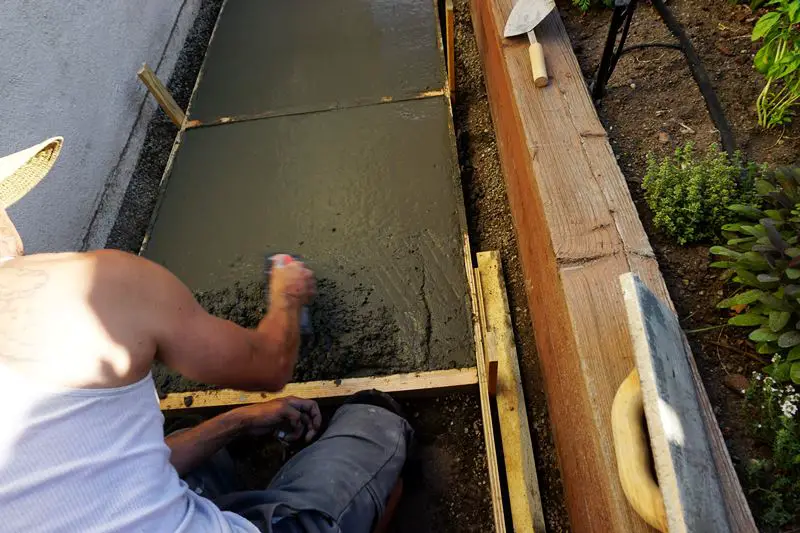 As the rest of the concrete goes in, the paver takes shape. Once all the concrete is in place, the next step is to screed the top.
Start by taking a piece of wood that is wider than the frame of the pavers, grab each end of the wood and slide it from the back side of the frame toward you. This will create an even surface with the top of the frames. As you screed the paver, it will start to collect the extra concrete. You can shuffle it along by sliding it sideways back and forth as you pull it toward you. Concrete might spill over the sides, you can clean this up later. Just keep going until you get an even surface across the paver.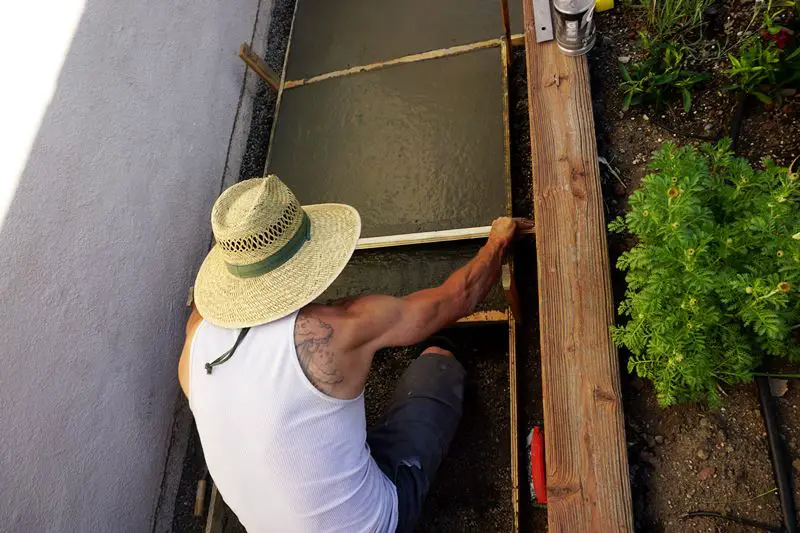 Next use a metal margin trowel to smooth out any inconsistencies. The smoother your surface, the more "polished" the paver will look.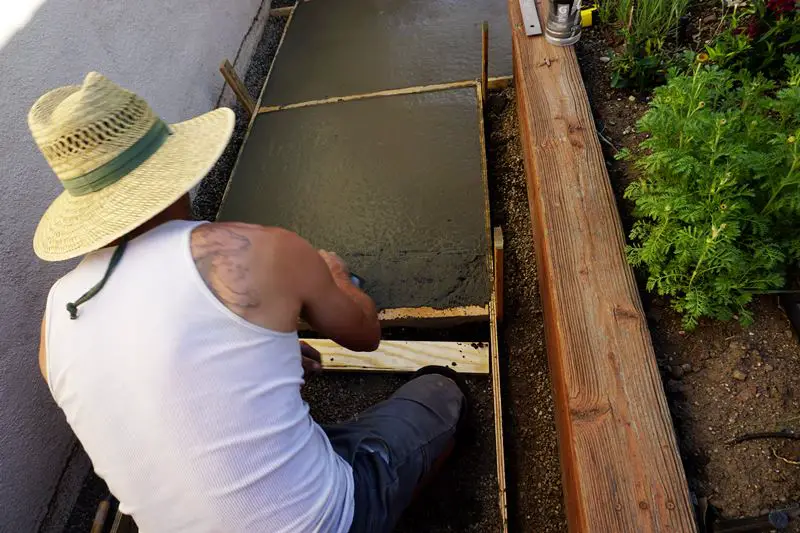 Step 4: Repeat
Now repeat these steps with the next paver! Our little section took about 9 hours from start to finish, including prepping the ground, building the frame and pouring out the concrete. It's roughly 3 feet wide and 12 feet long. Initially we only bought six bags of concrete—I think we envisioned smaller pavers. But once we started laying it out, we realized large concrete pavers would look and function so much better! So eventually I had to go to back to the hardware store to pick up 8 more bags of concrete.
Right before we completed our last paver we let our guard down for an instant and our dog Nicco had to make his own contribution to the project (see below). We debated keeping them, but a few prints were really deep. Mike was able to go back and smooth them out. Nice try Nicco.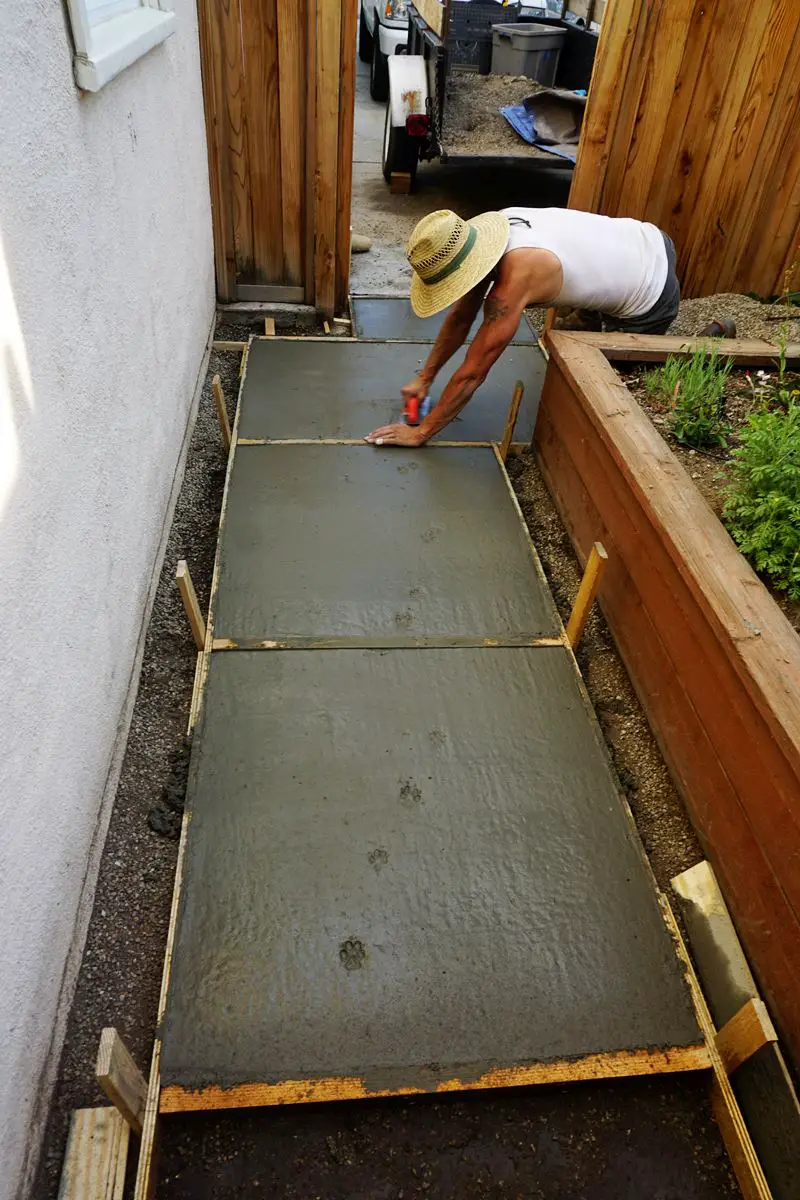 Step 5: Cure
It takes a minimum of 28 days to fully cure concrete (wow!). After a few days we could lightly walk on ours, and removed the frame around that same time.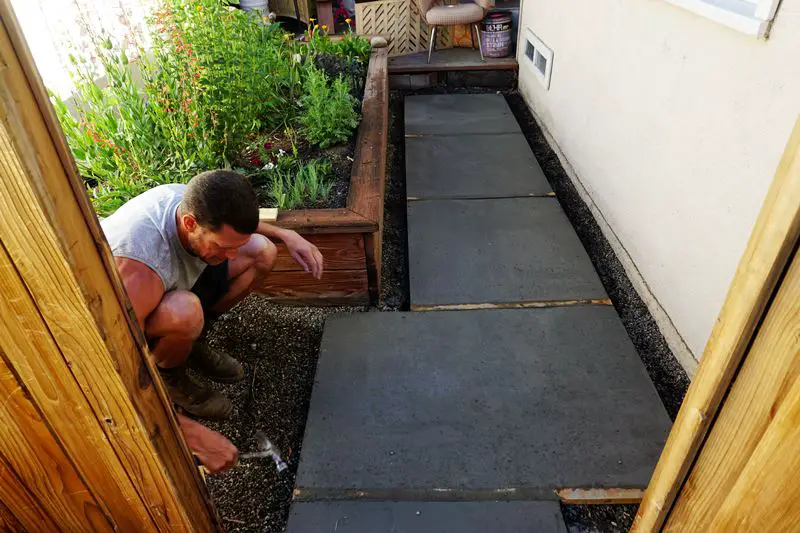 This photo below is taken about two and a half weeks after pouring the cement. It shows how much the cured concrete lightens up.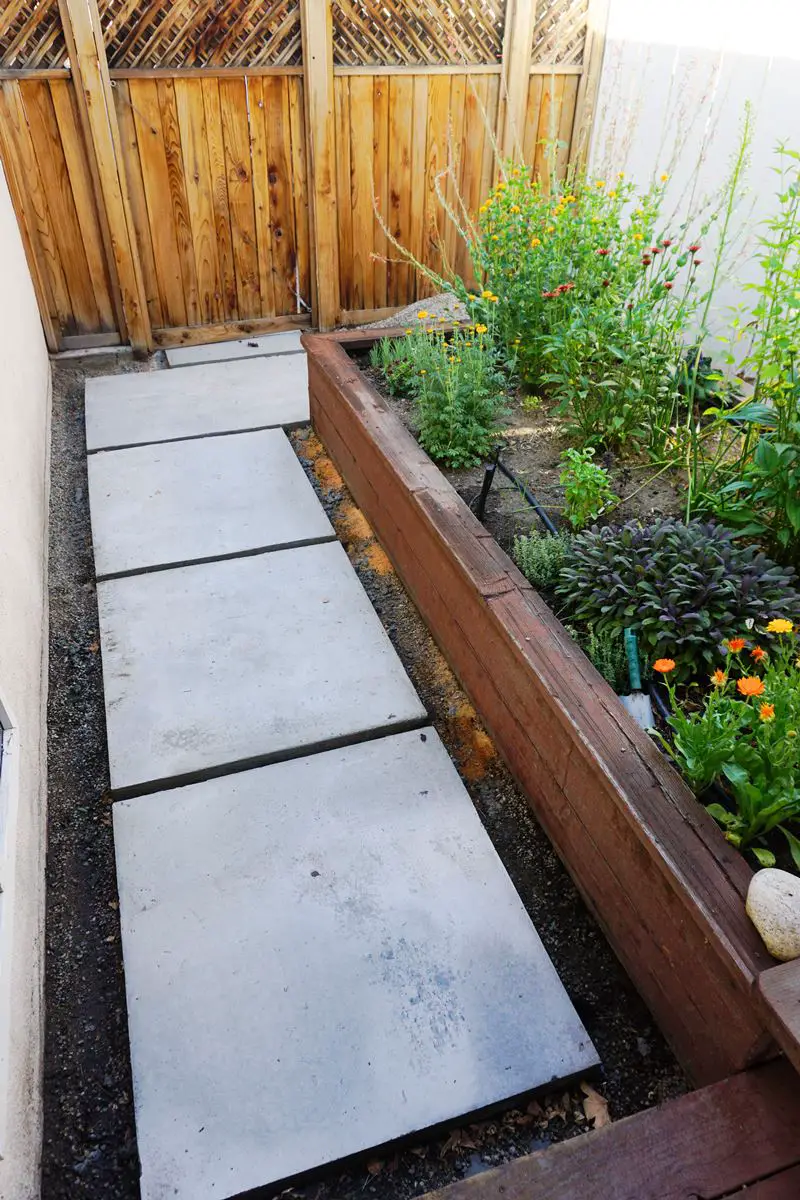 Step 6: Coloring the Concrete
We finally found a beautiful and cost-effective solution for coloring the concrete pavers. Stay tuned, I'm talking about it in the next tutorial.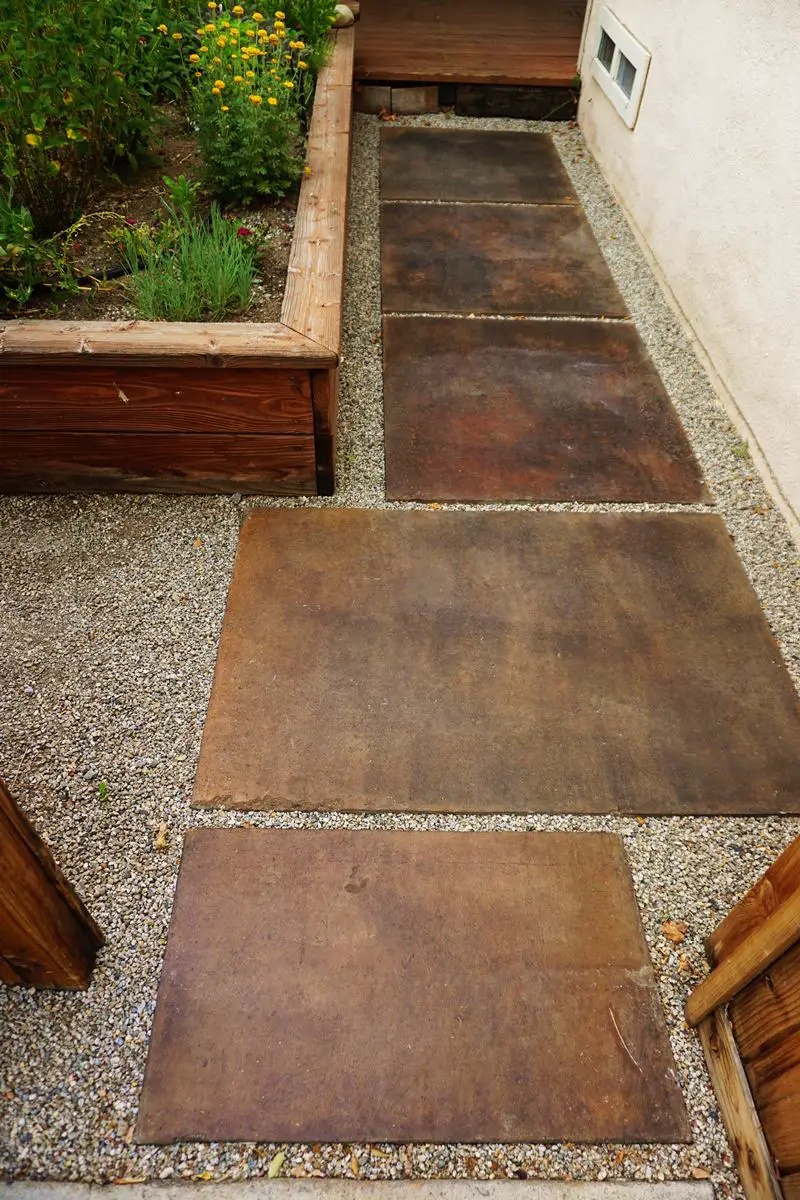 That's it! We are beyond stoked with our new DIY concrete pavers. Once and for all our home (and bathroom) is safe from gravel hitchhikers. And our gorgeous pavers give the side yard a polished and professional look.