If you've been following along for a little while you probably know recently helped my friends install a backsplash in their new kitchen. I wrote about that process, but left off with the grout. Why? Because I wanted to talk about what they chose to use or their backsplash: epoxy grout.
Now, you might be thinking, "What the heck is epoxy grout?"
Epoxy grout is made up of resins, hardeners and filler powder to form an extremely strong bond (regular grout is made up of a cement-like powder mix). So what does that mean for tiling? It means that there are some pretty great advantages that come from using it. Here's five awesome reasons to consider epoxy grout for your next tiling project.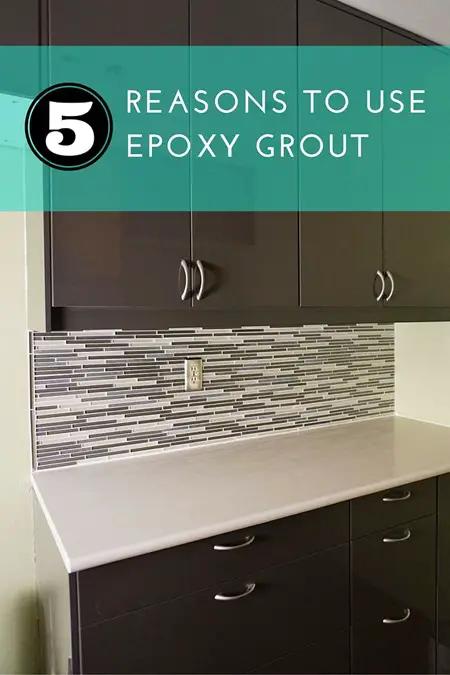 5 Reasons to use epoxy grout
It's virtually bomb-proof.
I've read that the epoxy grout bonds can often be stronger than the tile itself. How's that for bomb-proof and durable? Epoxy grout is often used in commercial applications which receive heavy traffic or which will be exposed to harsh chemicals. Some people might say this is overkill for residential applications, but I have to think our bathroom receives plenty of traffic…
It is mostly impenetrable and stainproof.
Epoxy grout is nearly waterproof (cementitious grout is not). As a result it will not absorb water or other liquids that may stain. Think about that: it will not stain. No mildew collecting in your grout, no weird dark spots, nada.
No need to seal. Ever.
Yep, you read that correctly. Cementitious grout is highly porous and a sealer helps keep dirt and stains from getting absorbed into the grout. Epoxy grout is not porous. Hence no need to seal! Think of it as having its own built in sealer!
It will not change color over time.
We've all been there: grout gets mildew-y, yellowed, dingy, or discolored over time. Because grout is so porous, all the things that it absorbs can change the color of the grout. How many times have you looked at your tiles a year after installation and get disappointed that the grout color has changed? As we already discussed, epoxy grout is not porous, therefore its color will not change over time! What you see grouting on the first day is what you'll see in five years!
No maintenance!
All these reasons add up to one pretty awesome thing: there's no maintenance! Remember when you first tiled something and diligently applied your sealer? And then next year you remembered you should reapply, but put it off. You finally reapplied that sealer coat after two years, and then it just kinda fell off your maintenance to-do list. Now you have stains and mildew and need to investigate other products to bring your grout back to its virgin color. Unfortunately this doesn't mean you never have to clean your tiles and grout. Epoxy grout won't magically repel dirt. Just like anything that builds up on the tiles, it will build up on the grout too. So you'll have to clean it all regularly, but the dirt won't get into the grout.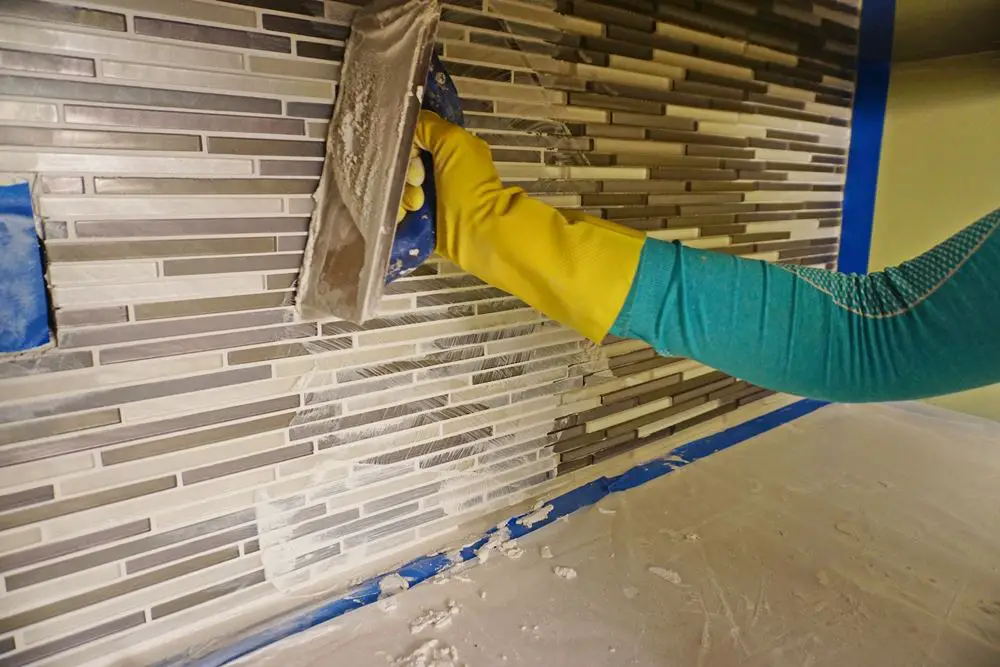 There you have it! Five reasons to use epoxy grout. How great does all that sound?
My friends were using it in their kitchen. Think oils, food stains, and harsh cleaning chemicals. They loved the idea of having a durable tile that would never absorb cooking spatters and were also pretty attached to the idea of never having to seal it.
So why haven't you heard of it? Because of the two reasons not to use it: epoxy grout is more pricey and it's not recommended for beginners.
Wait, what?
Not recommended for beginners?
Stay with me.
I have to admit I was afraid to try it, even though I've grouted plenty of tile. But I didn't need to be concerned. It all turned out great! It's thicker so you have to muscle it in a bit. (I was definitely sweating while working it in!) Also, I didn't really realize how quickly the epoxy grout needs to be cleaned up while applying. Yes, you need to clean it as quickly as you can. My friend worked behind me and started wiping the grout off the tiles after I applied it and that system worked well. If you don't have a friend, work in smaller sections. Even with that help, I still had to come back and use grout haze cleaner to get it fully cleaned up and finish the job.
So, my friends, even though I kinda botched it, I was still able to rescue things with the cleaner. Don't be afraid to try out the epoxy grout. You might want to start with a smaller project for your first time—for me, it was perfect for a backsplash installation.
And regarding the other negative reason, the pricey part, it's up to you what kind of savings that initial cost will be versus the maintenance savings down the road. If you are having tiles professionally installed, many tilers will charge extra to install it. So you need to weigh the cost and benefits for you. For me, having an install-and-forget-about-it-surface is totally worth it!
May your own project turn out fabulous!!