Whether you are prepping for a steady stream of guests throughout the summer or need to seriously upgrade your home's curb appeal, these 5 easy front entrance ideas will make a huge difference to the feel and appearance of your front door. I promise your entryway love and TLC will pay off every time you come home! Better yet, these steps can be checked off in a weekend!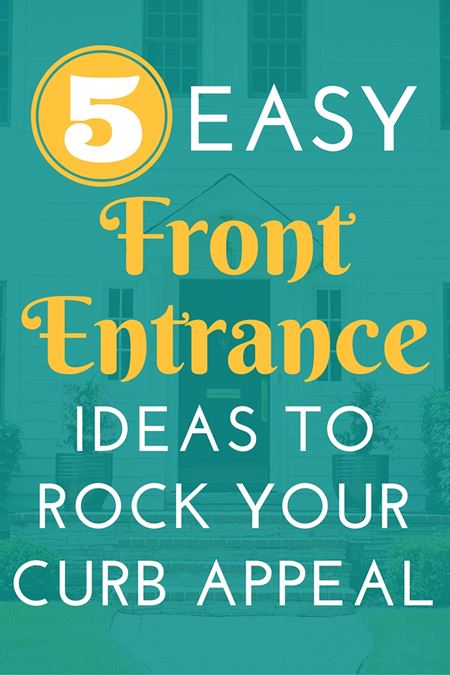 Good Old-Fashioned TLC: Scrub and Repair
You will do wonders for your doorway when you get rid of cobwebs, dirt, and leafy debris. Sweep off the porch, polish your hardware and scrub the accumulated dust and traffic grime off the door.
Check out the condition of everything there. Does your porch need a new coat of paint? A few new wood boards? Our entry needed a new porch lightbulb and some threshold care. It's amazing how you never notice a threshold until you really give it a critical look.
Step On It: Add A Fabulous Doormat
I know I'm not alone in loving cheery, colorful and decorative doormats. But they can take a lot of wear and abuse, so adding a fresh new doormat is a must. I used to buy a new colorful coir mat every year or so for the front door, but now I'm into making my own out of wood. No more coir tracked throughout the house! There are a ton of great DIY doormats, but regardless of whether you make one or buy one, a fresh new mat will make you smile. I promise!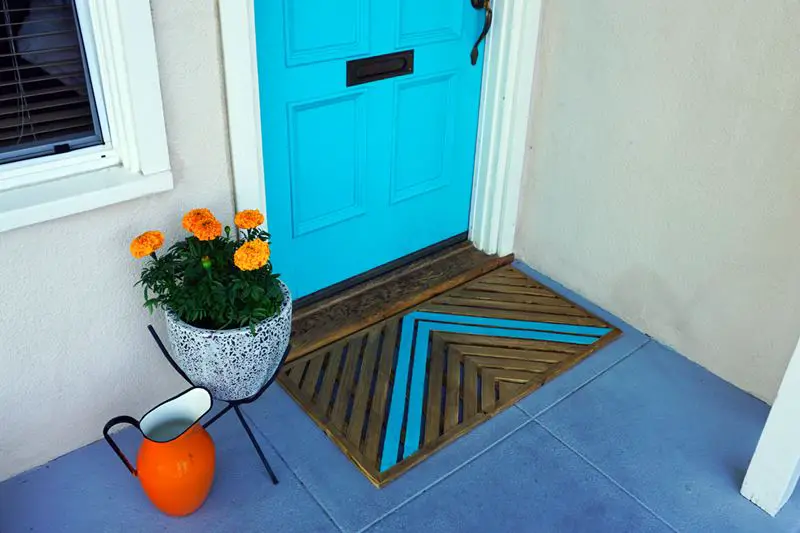 A-Door-Able: Paint Your Door or Add New Hardware
I've always ignored my door. Until I painted it. And I painted it a bright teal (see the picture above). Then all of the sudden I was in love—it just made me happy. And it makes my house look happy too. An added bonus is that it's easy to give directions: "My house is the one on the right with the teal door." Not only that, but last Halloween, three young trick or treaters complimented me on my door. Can you believe that?
You might know exactly what color to paint your door, or you might need a little help. If so, there's a handy app called Front Door Paint that you can add to your phone (available for both Android and Apple) that shows you some options. Just take a picture of your door and select from their colors to check out your new door.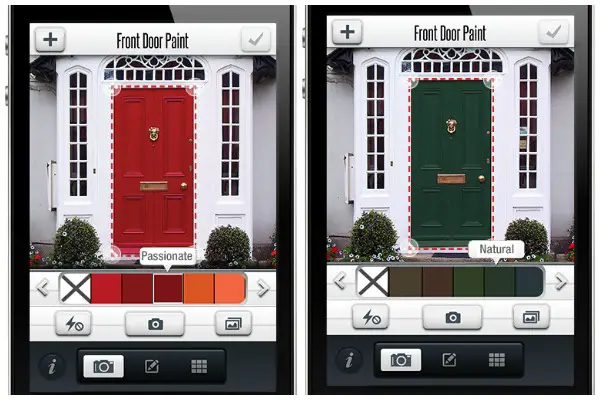 And if you're intimidated to paint your front door, Love Pomegranate House features a great tutorial. I took mine off the hinges to paint it, but it's super heavy and needs two people, so her tutorial walks you through leaving it on its hinges.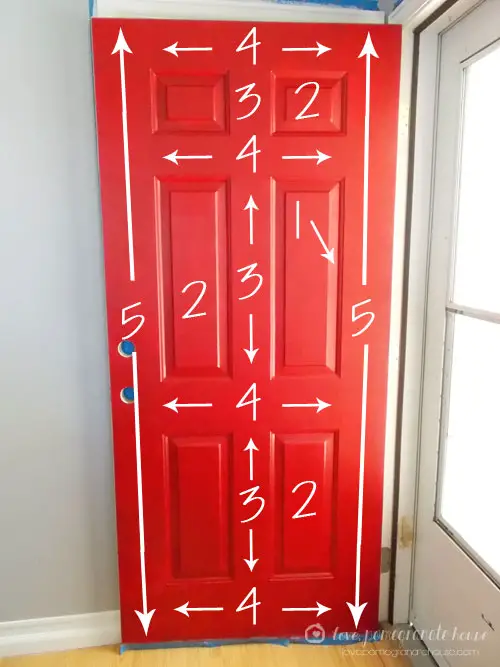 And once you've painted that door, you're without a proper door until the paint dries! I found no matter how dry you think the paint is, it has a very good chance of sticking to the weatherstripping once you close it. So here's a handy tip to help to keep the fresh paint to sticking to the weather stripping: put some Vaseline along the edge that might stick. Easy!
If you're already in love with your door color, consider your hardware. Would some vintage hardware really show off your home's style? Or maybe something modern?
I'm loving big elegant handles like this in either nickel or brass (I frequently turn to this site for big deals on hardware for doors as well as kitchens and bathrooms. Affiliate links included):

Kwikset 800HEXCN 15 SMT CP Hawthorne Single Cylinder Satin Nickel Handleset with Cameron Knob Featuring SmartKey – $176.60
Retail Price: $266.50
You Save: $89.90
On the other hand, perhaps something a little more modern?

Kwikset 974VDL SQT 15 Vedani Single Cylinder Satin Nickel Interior Pack Lever – $48.22
Retail Price: $62.00
You Save: $13.78
New Digits: Style Your House Numbers
Your address is a focal point for any new visitor. Therefore it's natural that house numbers would make any list of home entrance ideas for improving your curb appeal. I have a little bungalow that is very charming, with very cutesy house numbers. My front entrance to-do list includes some new DIY house numbers. (Maybe this will be the year.) Are you in the same boat? Do you have boring digits? If so, here are a few fabulous ideas to inspire your own flashy new numbers.
Hardware for numbers can be expensive, but this project utilizes numbers made from a Cricut and is actually layers of thin chipboard. And it looks so perfect with the planter!
Here's another tutorial that creates its own numbers–so cool for an industrial look!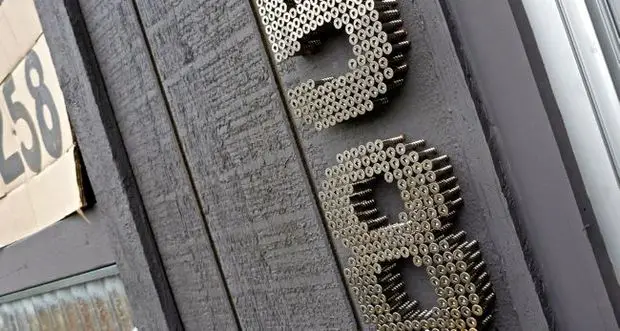 And one last example of purchased house numbers creatively mounted on wood for a more rustic touch.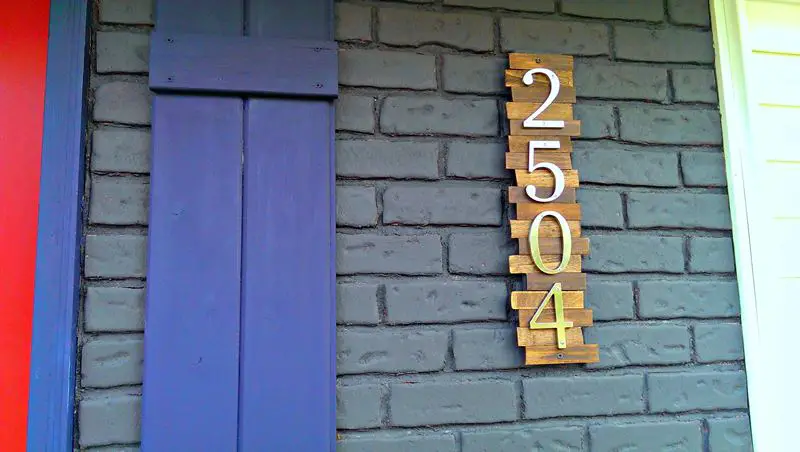 Show 'Em What You Got: Add Porch Accessories, Flowers, Wreath, etc.

Show off your personality and style at your door! Imagine how much drearier these doors below would be without their accents and style. So for some more front entrance ideas, add a bunch of flowers or a wreath to your door like this Spring Blossom Wreath.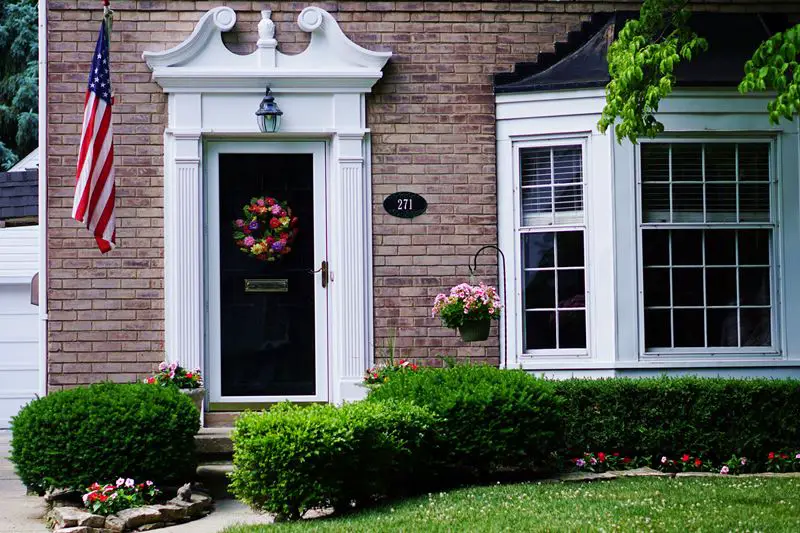 Or decorate with your patriotic streak. I love the extra touch of little flags in the planters.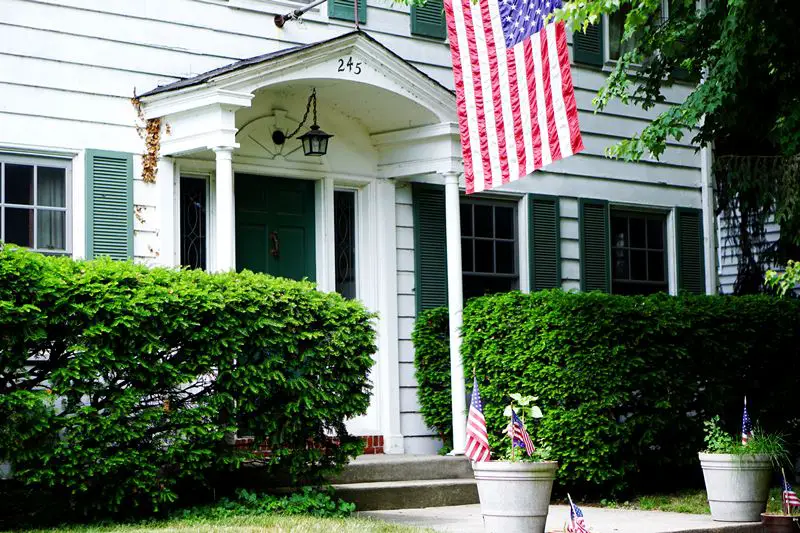 Do you have some plain space next to your door? Add some decor to show off your style. In addition, a bright mix of flowers makes a charming touch.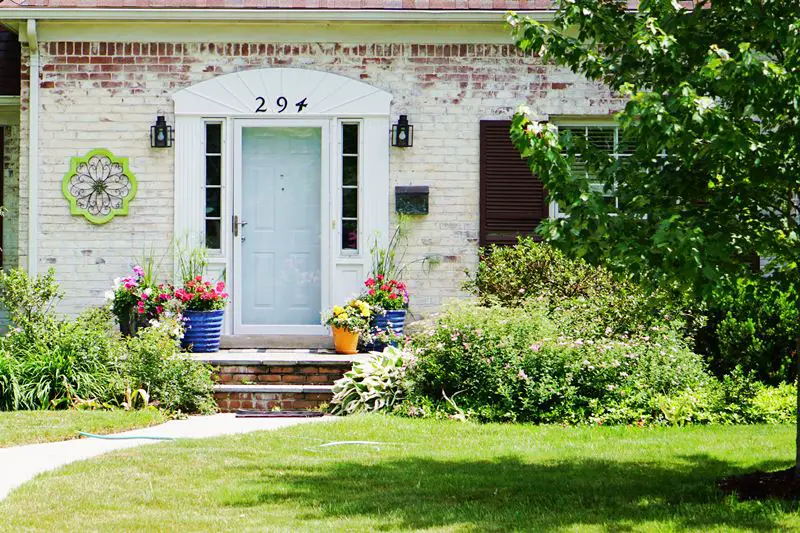 So there you have it: 5 easy front entrance ideas that will surely rock your curb appeal. Complete one each weekend for a super manageable schedule. And if you want more details and pretty pictures, check out Better Homes & Gardens Quick & Easy Curb Appeal.
Save